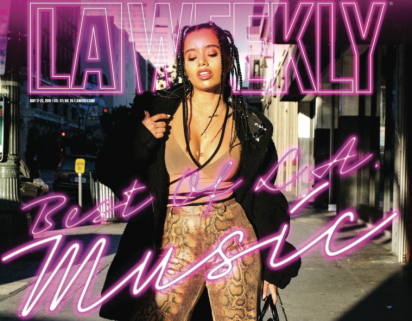 CalArtians were among the musicians featured in last month's 2019 Best of LA Music issue, the LA Weekly's annual spotlight on Los Angeles' top musical talent.
Laura Jean Anderson (Music BFA 14) was recognized as LA Weekly's 'Best Singer-songwriter.' Originally from Olympia, Wash., Anderson traverses the spectrum of human emotion while spell-casting listeners with everything from bold pop anthems to romantic country-folk ballads. The artist's love of old American music and the classics is apparent in her music—a gauzy blend of effortlessly folky vocals and timeless melodies, Anderson's distinct sound is on full display in her debut studio EP Lonesome No More (2018).
Space-pop quartet Polartropica earned the publication's distinction for 'Best Indie-pop Band.' Fronted by vocalist Ihui Cherise Wu, Polartropica promulgates a cosmic sound courtesy of Graham Chapman's (Music BFA 09) bass, Andrew Lessman's (Music BFA 09) drums and Alexander Noice's (Music BFA 08) guitar. Wu named the band after singer-songwriter Mark Foster's Polartropic, a genre-defying track that falls thematically in line with the group's dualistic ethos. Polartropica's sparkly interstellar aesthetic—both sonic and visual—is an enticing conduit for its darker and often socially conscious lyrics.
'Best Avant-Garde Concert' was awarded to several acts, including CalArtian composer-performers Odeya Nini (Music MFA 11) and Laura Steenberge (Music MFA 08), playing alongside vocalist and performance artist Anna Homler. Commissioned by The Society for the Activation of Social Space Through Art and Sound (SASSAS), this "unholy trinity" rocked out at the Baldwin Hills Scenic Overlook last October as part of the sound. concert series.
Versatile composer Heather Lockie (Music MFA 11) was also recognized in the 'Best Avant-Garde Concert' category for her haunting performance of her original work Song to be Performed in a Tunnel in Your Town, fittingly held at the Mueller Tunnel in the San Gabriel Mountains last June. The track is listed in Marshweed's (Lockie's solo project) experimental folk-pop album Marshweed in the Garden.
From world music to hip-hop, LA Weekly's 'Best of LA Music' offers a comprehensive survey of the current Angeleno music scene. Check out the 2019 issue here.