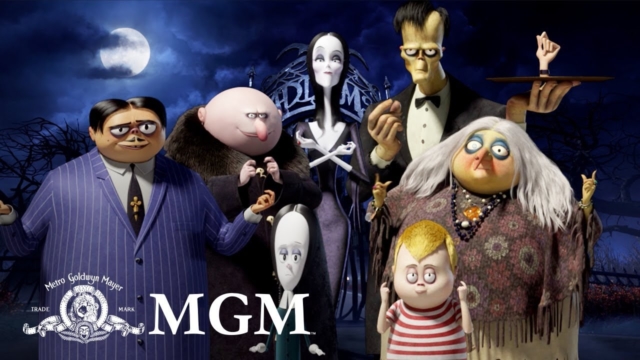 Just in time for Halloween season, MGM's The Addams Family, an animated remake of the classic horror film and TV series, arrives in theaters Friday, Oct. 11. The highly anticipated film is co-directed by CalArts alum Conrad Vernon (Film/Video 1992) and Greg Tiernan, with character design by Craig Kellman (Film/Video 1990).
Keeping faithful to the tone and style of Charles Addams' original cartoons, The Addams Family is a lighthearted take on the macabre. Woven into this 21st century story, which begins with the Addams family moving into an unwelcoming neighborhood in New Jersey, is a timely theme of embracing diversity and accepting "the other." With their eccentric and spooky antics, the family resists the plotting of their nosy neighbor and reality TV host who tries to kick them out of town.
To bring The Addams Family to life, Vernon brought his directorial experience from the animated comedy features Madagascar 3, Monsters vs. Aliens and Sausage Party, along with the help of former CalArts classmate Kellman.
To create the look of the film, Kellman said in Animation Magazine:
I thought it would be so much fun to go back to the original Charles Addams comics and use his remarkable drawings as a springboard. The goal was to take his shape language and make it more exaggerated and exciting. He had so much great iconography, so it's really fun to push and pull it and see how we could really translate it to CG animation.
Written by Matt Lieberman, The Addams Family cast includes Charlize Theron playing Morticia Addams, Oscar Isaac as Morticia's husband Gomez, Finn Wolfhard as Pugsley Addams and Chloë Grace Moretz as Wednesday. Also featured in the cast are Nick Kroll, Snoop Dogg, Bette Midler and Allison Janney.
An experienced voice actor himself, Vernon has played characters in each of his films, including The Addams Family for which he voices four characters: Lurch, Priest, Spirit of the House and Dr. Flambe. Other roles he has played include the Gingerbread Man in the Shrek series, Mason in Madagascar and Tate McGucket in Gravity Falls.
Check out the music video for Christina Aguilera's "Haunted Heart"' on The Addams Family official soundtrack below: