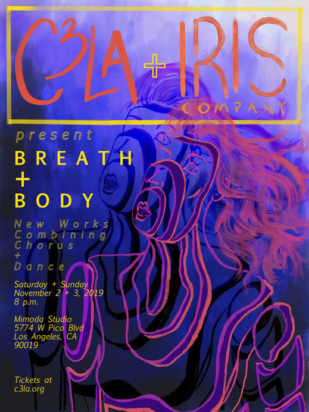 On Saturday, Nov. 2 and Sunday, Nov. 3, choreographer Sophia Stoller's (Dance MFA 15) Iris Company presents Breath + Body, a series of five new dance works in collaboration with C3LA: The Contemporary Choral Collective of Los Angeles. 
Founded in 2016, Iris Company is a Los Angeles-based dance collective "dedicated to creating socially relevant, thought-provoking and moving experiences" through dance, performance and film. The company collaborated with C3LA to create Breath + Body, marking the latter's first concert series of the 2019-20 season.
The performance features several CalArtians in the lineup, including dance company members Bryanna Brock (Dance BFA 16), Joan Holly Padeo (Dance BFA 16) and Carissa Songhorian (Dance BFA 17).
Stoller also collaborates with performer and composer Drew Corey (Music BFA 16) for Echo, one of the new dance works that recasts the myth of Narcissus and Echo into a tale of self-reflection and female empowerment.
An artistic director, choreographer, dancer, educator and video editor, Stoller's choreography has been presented in festivals and venues in Southern California, Israel and Bali. She is the recipient of the 2016 PDG Space Grant and was one of three choreographers selected for the 2017 Cohan Collective residency. In April of this year, Stoller and Iris Company performed in the 2019 LA Dance Festival.
Stoller was also recently featured on former professional dancer Allie Christensen's Beyond the Pointe podcast to discuss the LA concert dance scene and her transition from dancer to director.
Event Details
Breath + Body
Saturday, Nov. 2, 8 pm
Sunday, Nov. 3, 8 pm
Mimoda Studio
5774 W. Pico Blvd., Los Angeles
Tickets