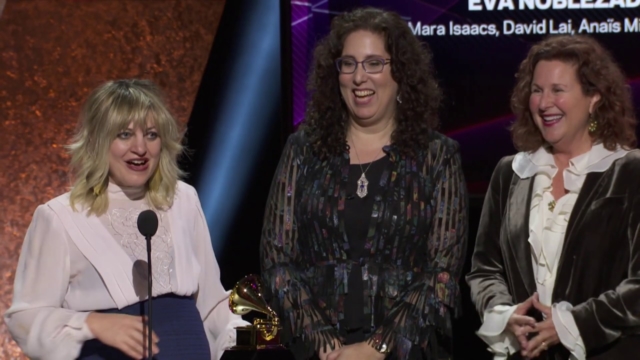 On Sunday, Jan. 26, Hadestown won Best Musical Theater Album at the 2020 Grammy Awards.
The musical, a reimagining of the ancient Greek myth of star-crossed lovers Orpheus and Eurydice, boasts numerous CalArtians among its producers: School of Theater faculty Mara Isaacs, Todd Sickafoose (Music MFA 98), Dale Franzen (Music MFA 89), Meredith Lynsey Schade (Theater MFA 06) and Kathleen O'Kelly (Theater MFA 18).
During the acceptance speech, Hadestown playwright, lyricist and composer Anaïs Mitchell thanked the Hadestown team, particularly Sickafoose and Michael Chorney with their "totally creative arrangements and orchestrations of the music." Mitchell also addressed the nominees about the importance of music-making through discarded lyrics from the play:
Orpheus was a poor boy but he had a gift to give. There was one song he'd been working on he could never seem to finish. A song about this broken world that he rewrote again and again, as though if he could find the words he could fix the world with them.
Hadestown originally premiered in 2006 in the town of Barre, Vt., and was reworked into a stage production following the release of a 2010 concept album. The current version of the musical premiered in 2016 at the New York Theatre Workshop, followed by a critically acclaimed Broadway premiere in March 2019. The musical racked up eight wins at the 73rd annual Tony Awards, including the awards for Best Musical and Best Original Score.
See the complete list of Grammy Award winners here.