F.X. Feeney, the renowned film critic, historian, screenwriter, author, filmmaker, and CalArts alumnus, passed away on Wednesday, Feb. 5, leaving behind a rich legacy of work in both writing and in film. He was 66.
While at CalArts, Feeney studied under the great filmmaker and founding Film Dean Alexander "Sandy" MacKendrick. For MacKendrick's centennial in 2013, Feeney participated in a panel discussion focusing on the work of his mentor. He also wrote a remembrance piece in Written by—the magazine of the Writers Guild of America—about MacKendrick's Writer-Director's Workshop. Feeney wrote about studying and watching On the Waterfront in class as many as two to three times per week for the entire semester.
After graduating with a BFA from CalArts' School of Film/Video in 1976, Feeney began freelancing shortly thereafter. By 1980, he joined the fledgling alternative paper in Los Angeles—the LA Weekly—as its film critic and associate editor. He remained affiliated with the paper for more than 30 years.
Another notable project was Feeney's work with The Z Channel, one of the first pay TV channels in the US. Founded by Jerry Harvey in LA in 1974, the channel earned its reputation for daring and eclectic programming, as well as for showing "director's cuts" and letterboxed formats. From 1983 until the channel's run ended in 1989, Feeney served as its resident critic and programming consultant.
Feeney also authored several screenplays (Roger Corman's Frankenstein Unbound, The Big Brass Ring) and books, most notably Orson Welles: Power, Heart and Soul (The Critical Press), published in 2015. At the time of his passing, Feeney was working on directing a documentary, Harris Kubrick: Genius Takes Two, about the 10-year partnership between producer James B. Harris and filmmaker Stanley Kubrick. Together, they collaborated on films including The Killing (1956), Paths of Glory (1957), Lolita (1962), and Dr. Strangelove (1964).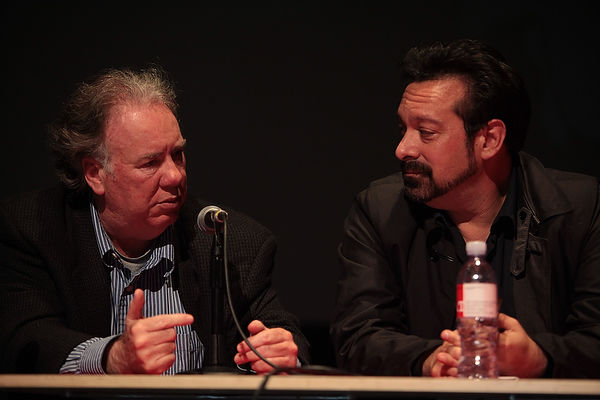 Fans, colleagues, and friends alike have been sharing statements or stories about Feeney. Manohla Dargis, movie critic for The New York Times, posted on Twitter: "I had the great privilege of working with [F.X. Feeney] at the LA Weekly, where he was a regular contributor. He was a lovely, generous, gentle and kind soul with a remarkable depth of knowledge on many topics. It was an honor to know him."
Also on Twitter, NPR's Ella Taylor wrote, "In print and in person he was no pushover, but he was one of the kindest, most discerning people to ever walk this earth, a gentleman in every sense of that word. Goodbye dear F.X. Feeney, and whatever lies beyond, may you enjoy it as much as you enjoyed this world."
But one of the most touching tributes came from Paul Reubens, better known by his alter ego Pee-Wee Herman. The two attended CalArts together in the 1970s, and Reubens shared this about his late friend.
In every way, he was an amazing human. Gentle. Friendly. Astute. I will greatly miss him and always think fondly of him. You were one of the great ones, F.X., and I was always crazy about you. Rest In Peace. ❤️💔 #rip #friends [4/4]

— Pee-wee Herman (@peeweeherman) February 6, 2020