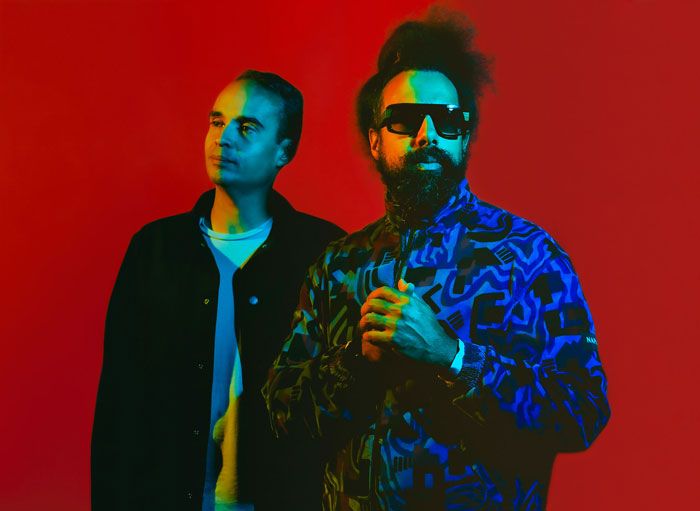 The musical duo Wajatta—Reggie Watts and CalArts faculty John Tejada—headlines the First Fridays music and science series at the Natural History Museum in Los Angeles tomorrow (March 6). They're playing in support of Wajatta's sophomore album, Don't Let Get You Down, which was released last week on Brainfeeder records.
A recent NPR story noted that, on paper, the musical collaboration shouldn't work—but it does. Reggie Watts is an freestyler, looper, comedian and the current bandleader for The Late Late Show with James Corden, while Tejada is "a meticulous electronic composer."
Their live performances combine the strengths of both artists: production and improvisation. The duo describe their music as "electronic dance music with its roots in Detroit techno, Chicago house, '70s funk and New York hip hop."
Tejada, who teaches Music Technology courses in composing and production at CalArts, has been at the forefront of electronic dance music since 1994. Among his best-known tracks are "Farther and Fainter" (from Parabolas) and "Sweat (On the Walls)," which has now become a crowd favorite during Wajatta's high-energy live shows, with the addition of Watts' riffing over the orginal vocals.
NHM's First Fridays season opener's theme is the "Future of Medicine," and features early evening discussions by Dr. Alexis Komor and Dr. Roey Tzezana. The music program also features Café Molly and French Vanilla preceding Wajatta's set at 9 pm.
Event Details
Wajatta at First Fridays
Wajatta at First Fridays
Natural History Museum
900 Exposition Blvd., Los Angeles
Tickets