Editor's note: Out of an abundance of caution, and because there's rain in the forecast for this weekend, The Other Places art fair has been postponed until Sept. 19-20.
---
An artist collective composed of CalArtians will take the stage at the Other Places art fair (OPaf) on March 14-15 at the Angels Gate Cultural Center in San Pedro, Calif.
The Operational Statements collective—CalArtians Luka Fisher (Art MFA 18), Sydney Mills (Art MFA 18), Don Tingling (Art MFA 18), and Elizabeth Preger (Art MFA 18)—will create an outdoor stage show where each member will perform. Details for each programming slot are below.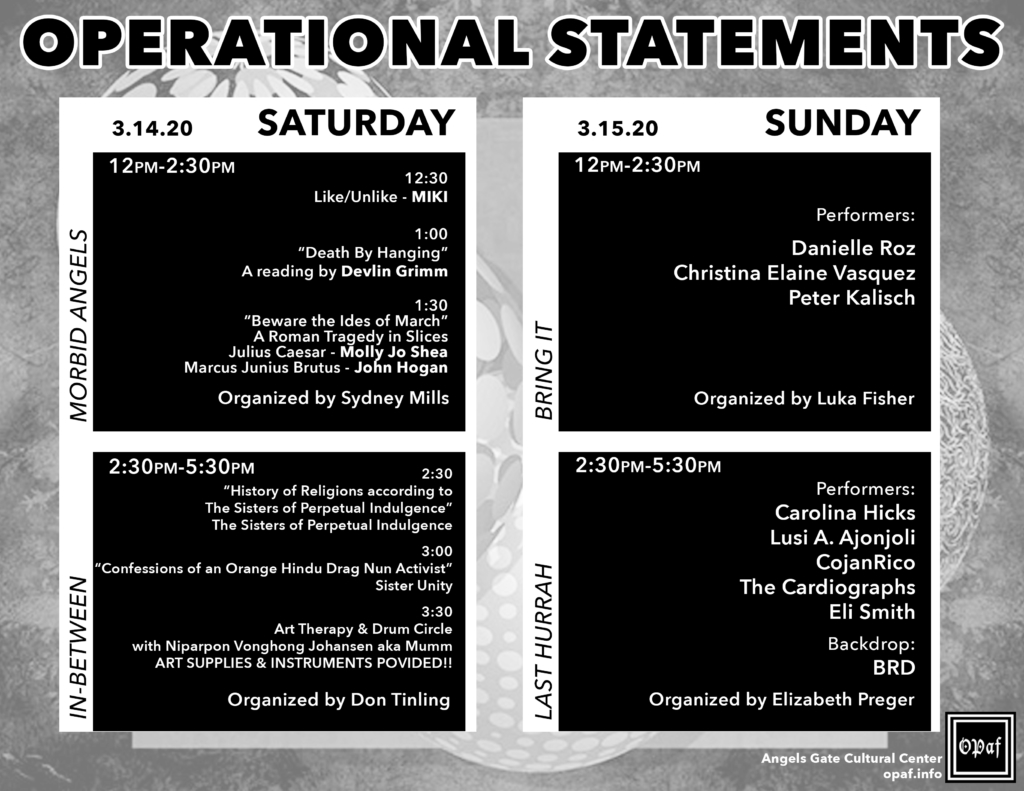 OPaf was founded several years ago by artist Keith Rocka Knittel (Art MFA 09) who told ARTFORUM that its goal is "whatever the exhibitor wants." The alternative art fair operates outside the traditional gallery setting and invites participants to present site-specific booths that are unconventional and fluid in definition.
Long Beach Post wrote on the innovative nature of the fair:
During OPaf, exhibitors selected through an open application process are spread out across a somewhat unruly Battery Leary-Merriam at Angels Gate Cultural Center in San Pedro … OPaf has essentially removed the money factor and returned the focus to the work, with exhibitors still selling work or merchandise, but usually for incredibly accessible prices.
The fair takes place in an area of the Cultural Center called Battery Leary-Merriam, a decommissioned U.S. Army Battery overlooking the Pacific Ocean. The site has been in constant transformation since 1916 and provides a dynamic space for participants to interact with, boasting an array of trees, tunnels, rooftops, concrete nooks, and hillsides.
New to OPaf this year is OPaBf (the Other Places art Book fair), which is curated by The Fulcrum Press and OPPPAFFF (Other Places Projects Performances and Fun Food Fair) and organized by Asha Bukojemsky. In keeping with OPaf's mission of operating outside traditional art world systems, one booth will be randomly chosen as the best and then awarded the inaugural OPaf Prize, a cash prize.
The CalArts School of Art MFA Class of 2021 will have a space in the fair.
Event Details
Other Places art fair
Angels Gate Cultural Center
Battery Leary-Merriam
3601 S Gaffey Street, San Pedro
12 – 6pm
Admission
$5 suggested donation / Free for students