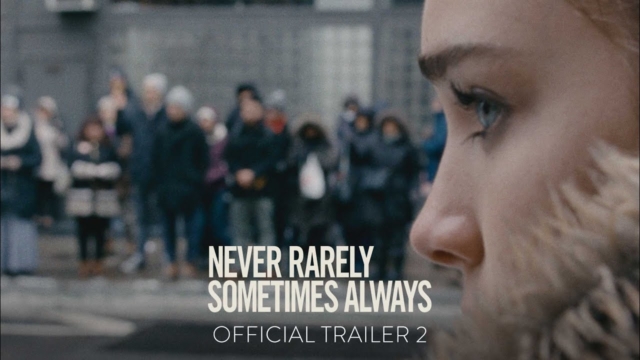 Writer-director Eliza Hittman's (Film/Video MFA 10) third feature Never Rarely Sometimes Always, a poignant drama about two teenage girls in rural Pennsylvania who seek help for an unintended pregnancy, is being rereleased on Friday (April 3).
The film had opened in select theaters on March 13, but the coronavirus pandemic forced Focus Features to pull the film a few days later. It will be available as a premium video on demand film (PVOD) on participating platforms, including Amazon Prime, Google Play, and Apple TV.
The film addresses women's rights through the journey of the pregnant Autumn (Sidney Flanigan) and her cousin Skylar (Talia Ryder). At first, Autumn seeks help from her local women's clinic, which turns out to be affiliated with an anti-abortion organization. After researching options, the two realize they need to travel to New York City in order to have the procedure. Their trip becomes more complicated, and Autumn and Skylar must spend two days and nights alone in the city. Although the trip is fraught with stress and tension, their bond and friendship grows stronger.
Never Rarely Sometimes Always premiered at this year's Sundance Film Festival, earning a Special Jury Award. Last month, it won the Silver Bear at the Berlinale.
"It's thrilling that a small independent film could win," Hittman said during a phone interview. In a small way, she added, the win "represents a change" for women in film, especially in Europe.
When developing Never Really Sometimes Always, Hittman took an unorthodox approach, conducting first-hand field research at women's reproductive health clinics. "I wanted to be able to write those scenes," she said. "I didn't want to do stereotypes."
The film features the work of fellow CalArtians as well. Filmmaker Scott Cummings (Film/Video MFA 07), Hittman's partner and longtime collaborator, edited the film. Cummings had previously edited Hittman's earlier features It Felt Like Love and Beach Rats. Songwriter and musician Julia Holter (Music-IM MFA 09) scored the film.
And as for advice to current CalArts filmmakers, Hittman noted: "There's not one path to take as a filmmaker," she noted. "Take risks and commit to the process."
---
Never Rarely Sometimes Always is available on April 3 for $19.99 on various PVOD platforms.