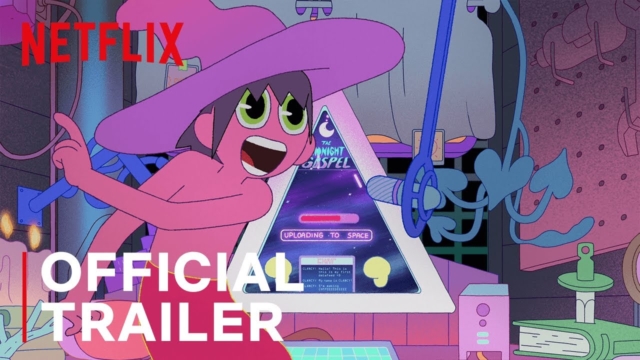 Pendleton Ward (Film/Video BFA 05), creator of the beloved animated show Adventure Time, is back with a new out-of-this-world series called The Midnight Gospel. In partnership with actor and comedian Duncan Trussell, the show animates episodes of Trussell's podcast, which explore existential questions and cover topics such as meditiation, mysticism, and psychedelic drug use. Netflix fittingly released all eight episodes on the trippiest day of the year: April 20.
Described as "unexpectedly apt for these strange days," by the Los Angeles Times, The Midnight Gospel is as conceptually groundbreaking as it is visually stunning.
Each episode begins in the Chromatic Ribbon, an otherworldly dimension, where the main character Clancy (voiced by Trussell) lives with his pet dog and the simulator that takes him on adventures to other planets where he interviews local beings for his "spacecast." The show features real-life guests, including novelist Anne Lamott, Dr. Drew Pinksy, comedian Maria Bamford, and spiritualist Ram Dass, among others.
In Animation Magazine, Ward talks about the show's origins:
"I wanted to make something … meaningful, ha-ha!," says Ward. "But I was struggling to come up with a concept for a show that could showcase the things that I think are meaningful. I wanted something overly honest that dealt with kindness and compassion, something that felt beautiful to me."
The Midnight Gospel animation team was comprised of 190 people from award-winning animation studio Titmouse, Inc. Led by Supervising Director Mike Mayfield, the team was asked to "stay loosely close to the designs, but to put their own style onto the drawings," according to Animation Magazine.
Stream all eight episodes of The Midnight Gospel on Netflix.