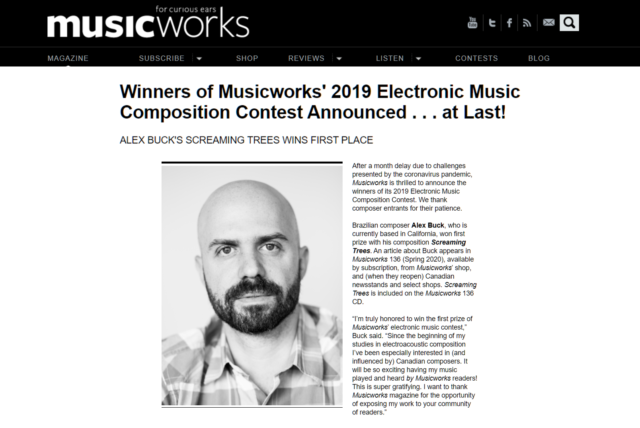 Composer Alex Buck (Music DMA 23) was named the first prize winner of Musicworks' 2019 Electronic Music Composition Contest for his composition Screaming Trees. 
Musicworks, a Toronto-based avant-garde music magazine, selected the haunting and multilayered composition in which Buck explores a singular idea: "What if the rough, hard, noisy sounds that I had just recorded from instruments made out of wood—such as the cello and the acoustic bass—would represent reminiscent screamings of dead trees."
All sounds in the piece are wood-related, including wooden instruments, page turning, books closing, and birdsongs. The piece was further inspired by the book The Falling Sky: Words of a Yanomami Shaman, a compilation of interviews with indigenous leaders, as well as the Amazon rainforest and indigenous populations still under threat in Buck's native Brazil.
Screaming Trees is included on the Musicworks 136 CD. Listen to the composition on Buck's Soundcloud below.
The Electronic Music Composition Contest drew 149 applicants from across the globe for its ninth edition. The 2019 winners were announced this month after a month-long delay due to the coronavirus pandemic. 
Buck is a performer, composer, and educator who has taught at the EMESP Tom Jobim and the Colegio Oswald de Andrade in Brazil, and currently teaches at The Herb Alpert School of Music at CalArts. He is also a member of experimental jazz trio Trio Ciclos, alongside Bruno Migotto (bass) and Edison Sant'anna (piano).