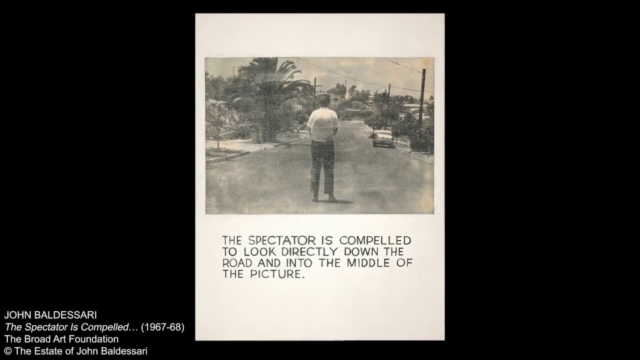 A new video by the Los Angeles contemporary art museum The Broad celebrates the impact of late longtime faculty CalArts members James Tenney and John Baldessari (Chouinard 59) on Los Angeles' art landscape.
Organized by faculty Madeline Falcone (Music MFA 13), the video explores Tenney's and Baldessari's works, and their statuses as trailblazers in the Los Angeles art scene. The piece also highlights the similarities in both artists' creative pedagogy: "The spirit of interdisciplinarity and the importance of a broad education for artists is present in both Tenney's and Baldessari's artistic practices."
Through their progressive and unconventional teaching methods, Tenney and Baldessari shaped generations of artists and musicians, among whom are numerous CalArtians: Ericka Beckman (Art MFA 76), Eric Fischl (Art BFA 72), Mike Kelley (Art MFA 78), David Salle (Art BFA 73), Charlemagne Palestine (Music 71), Peter Garland (Music BFA 73), and John Luther Adams (Music BFA 73).
The project initially included a live performance by Isaura String Quartet—comprised of Falcone, Emily Call (Music MFA 13), and Betsy Rettig (Music MFA 12)—at The Broad. Due to disruptions posed by COVID-19, the participating artists recorded remotely for a quarantine iteration, alongside guest artist Scott Worthington.
Sagan West Fylak (Music MFA 17) also assisted with audio mixing for the quartet's rendition of Tenney's Swell Piece (1967). Additional project research and support was provided by Associate Producer for Music at REDCAT Lauren Pratt, who was married to Tenney.