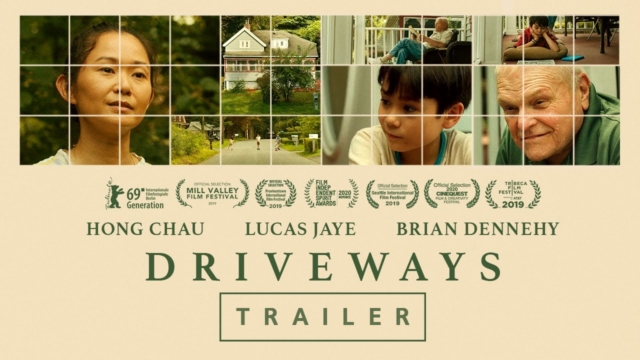 Themes of generosity, empathy, and human connection take center stage in director and CalArts alum Andrew Ahn's latest feature film, Driveways (2019), which was released May 7 on various streaming platforms including Amazon and iTunes.
Driveways, produced by Maven Pictures, depicts an unlikely friendship between Korean War veteran Del (Brian Dennehy, who passed in April) and 8-year-old Cody (Lucas Jaye), as well as the relationship between Cody and his mother Kathy (Hong Chau), who grapples with the recent death of her sister. The film was nominated for a 2020 Film Independent Spirit Award in the Best First Screenplay and Best Female Lead categories.
"Now that we're going through a pandemic and everyone is sheltering in place, I hope the movie can be a reminder that human connection will make us who we are, despite what might be separating us," noted Ahn (Film/Video MFA 11) in a recent Character Media article.
In a recent film review for Vulture, Bilge Ebiri characterizes the film as "quietly shattering":
It builds a deeply moving emotional journey out of the simplest, most mundane elements. By the end, almost nothing has happened, and yet you're a wreck.
In the original script, Kathy and Lucas were not specified as Asian American, but came to be per Ahn's suggestion. This decision is credited to a more nuanced reading of the story, lending certain scenes—such as one in which the characters' neighbor Linda asks them where they're from—greater authenticity.
Ahn is a Korean American independent filmmaker whose works explore rare yet realistic stories and characters. He is the recipient of the 2017 Film Independent Spirit John Cassavetes Award for his debut feature film Spa Night, as well as a 2012 aGLIFF Award, the 2016 Jury Award at the Boston LGBT Film Festival, the 2016 Bill Sherwood Award, and 2011 and 2016 awards at the San Diego Asian Film Festival.