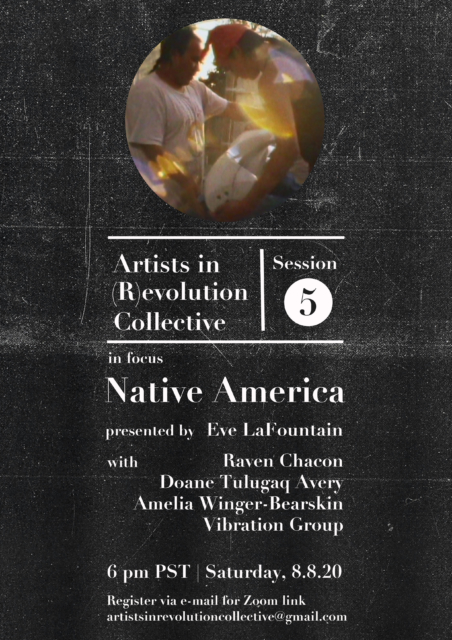 On Saturday (Aug. 8), the Artists in (R)evolution Collective presents Session 5: Native America, featuring Eve-Lauryn Little Shell LaFountain (Turtle Mountain Chippewa) (Film/Video-Art MFA 14), who will be joined by Raven Chacon (Music MFA 04), Amelia Winger-Bearskin, Doana Tulugaq Avery (Film/Video MFA 16), and The Vibration Group's Anna Luisa Petrisko (Music MFA 14), Jon Almaraz, and Lu Coy (Music MFA 18). Each of the artists will share selected artworks and then open the session up for a discussion. 
AI(R)C was formed in February 2020, by three graduate students in the Program in Film and Video at CalArts: Gavati Wad (MFA 22), Nehal Vyas (MFA 22), and Isabela Costa (MFA 22). The collective creates educational and informative experiences for artists who want to engage in open and peaceful dialogue, and raise important questions. Each session focuses on the nuances of socio-political issues that concern specific regions, countries, or communities, and are led by an artist-member of the topic in focus.
Led by LaFountain, Session 5: Native America begins a conversation about the roots of the political and social turmoil that is so prevalent in the United States of America today.
From the program notes:
Manifesting our destiny. Manifestations of destinations. Defying the lies of erasure. Defining our lines into the future. The people, the Indigenous peoples of these lands, continue to survive in the post apocalyptic world we've traversed for 528 years and counting. At the helms of our ships we sail through the stories of our ancestors and continue to build our futures.
LaFountain is a Los Angeles based multimedia artist and educator. She is also the Senior Admissions Counselor for the School of Film/Video at CalArts. Her work has been shown in venues and festivals around the world. LaFountain is a Sundance New Frontier and Indigenous Documentary MacArthur Fellow.