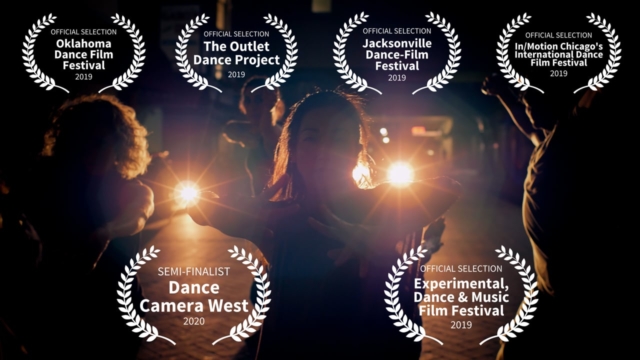 Iris Company Artistic Director Sophia Stoller's (Dance MFA 15) electrifying short dance film Screaming Shapes is now available to watch online.
Characterized by Stoller as a "visceral and raw" piece, Screaming Shapes is a display of undulating choreography against a near-frantic modulated staccato soundscape—an "exploration of music and movement existing as one entity."
Among the Iris Company dancers featured in the film are fellow CalArtians Bryanna Brock (Dance BFA 16), Joan Holly Padeo (Dance BFA 16), and Shane Raiford (Dance BFA 12). The music was composed by Peter S. Shin and performed by the Kaleidoscope Chamber Orchestra.
In an interview with Matthew Toffolo, Stoller discussed the process and inspiration behind the film. The idea took root in 2017, when Stoller undertook an artist residency with the Cohan Collective, which paired choreographers with composers. Stoller was paired with Shin, where they developed what would eventually become a stage piece:
The first iteration of the piece that we created at the residency was all about the dance visualizing the music, and the music speaking the sounds of the dance. The vocal sounds in the music were pulled from a recording of a poem being read, written in response to the 2016 election in the US. Although Peter (Shin) manipulated the vocal sounds heavily so you no longer hear any words, the unusual rhythms created from the vocal sounds give the piece a wild and frenetic feeling.
In 2018, the stage piece was adapted into a film, produced in collaboration with Stoller's husband Peter Amodeo Gould, a filmmaker and CEO of video production company Amodeo Creative.
Screaming Shapes was an official selection for the 2019 Oklahoma Dance Film Festival, In/Motion Chicago's 2019 International Dance Film Festival, and Jacksonville Dance Film 2019 Festival. It was also a semifinalist at Dance Camera West 2020 in Los Angeles, which marked the conclusion of its festival circuit.
Founded in 2016, Iris Company is an LA-based dance group "dedicated to creating socially relevant, thought-provoking and moving experiences through dance, immersive performance, and film." The company quickly made its mark with The Other Side, a large-scale immersive dance theater performance that premiered in May 2017 at Gramercy Studios. In November 2019, Iris Company presented Breath + Body, a series of five new dance works in collaboration with The Contemporary Choral Collective of Los Angeles (C3LA). The company was also among a CalArtian-heavy lineup at the 2019 LA Dance Festival.