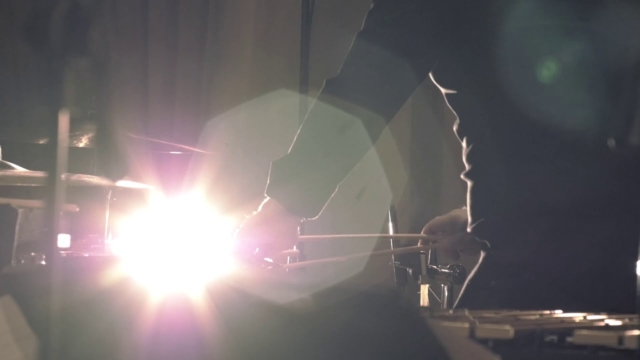 The Los Angeles Percussion Quartet (LAPQ), a chamber music ensemble dedicated to commissioning new works for percussion, released a new video for Lullaby 5 by CalArts faculty Nicholas Deyoe on Friday, Sept. 4.
The quartet, which includes CalArts Music alums Justin DeHart (MFA 04), Nick Terry (MFA 04) and Matt Cook (MFA 10) with Cory Hills, originally premiered the composition in 2013, and it also appears on LAPQ's album, The Year Before Yesterday (2014).
Deyoe, assistant dean and the director of the Instrumental Arts specialization in The Herb Alpert School of Music at CalArts, wrote that Lullaby 5 is part of a larger series:
Between 2011 and 2016, I composed a series of six Lullabies. Each exploring a different aspect of memory, nostalgia, confused emotions, loss, changing perspectives, unfamiliarity, and inevitability. These are some of the most personal pieces I have written, all conceived in close collaboration with the friends they are dedicated to, and blending their memories with my own. Lullaby 5, composed in 2013 for Los Angeles Percussion Quartet, was originally meant to be my last Lullaby. The ending of this piece is a quotation and manipulation of the ending of Lullaby 1, which was my way of creating closure and forcing myself to stop (three years later, I decided to add a sixth as a memorial for my father who passed away at the beginning of 2016.)

Each player's setup in Lullaby 5 is a modified imitation of the other three in the quartet. This is designed to create a homogeneous ensemble sound, but with subtle individual differences. Each player is given material to differentiate themselves while also blending into the whole. As energy is dispersed through the ensemble, it transforms itself, eventually becoming a flawed memory of its origins. No thought or gesture between two people is truly understood in the same way by both parties. Even identical material is inevitably different, down to the two vibraphones that are slightly out of tune with each other.
An L.A.-based composer, conductor, and guitarist, Deyoe is the co–founder and artistic director of the wasteLAnd concert series. In addition to the LAPQ, he has received commissions from the Los Angeles Philharmonic, Carnegie Hall, USINESONORE Festival, The La Jolla Symphony, Palimpsest, and several soloists.
Deyoe's compositions and improvisations can be heard on Sono Luminus, Populist, Spektral, Khajila, and Eh? Records. His last release was 2017's for Duane.