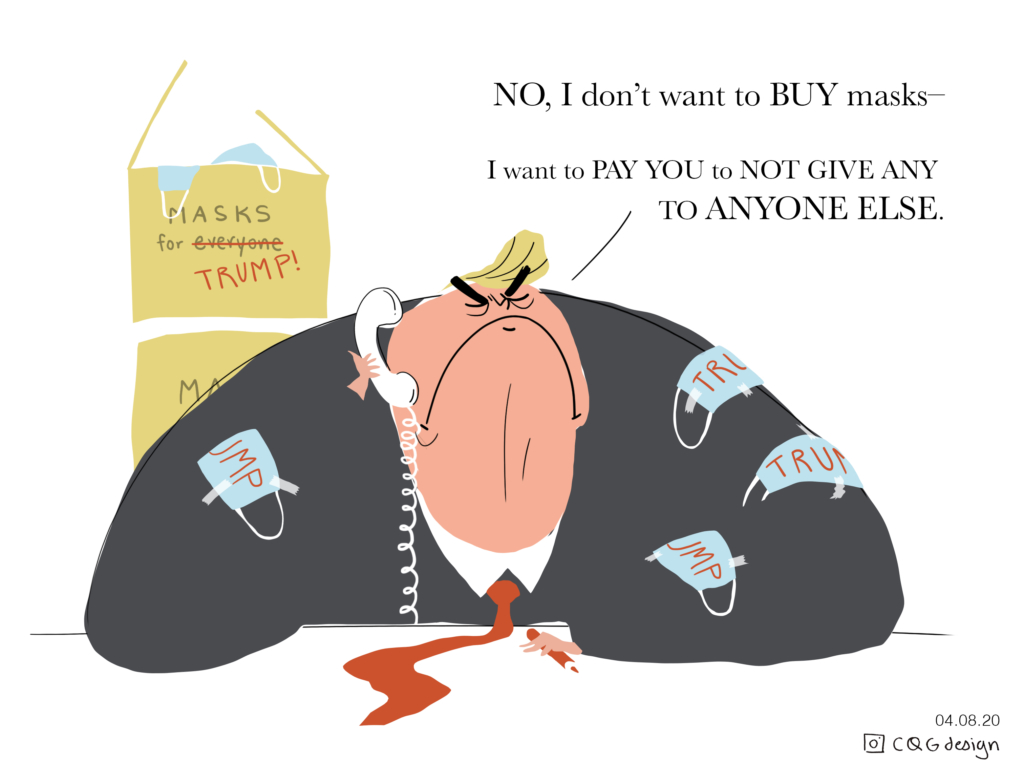 Graphic designer Catherine Gong (Art BFA 23) has been named the winner of the American Association of Editorial Cartoonists' (AAEC) 2020 John Locher Memorial Award.
Established in 1986, the award honors the memory of John Locher, an editorial cartoonist and son of Pulitzer Prize-winning editorial cartoonist Dick Locher. John worked alongside his father on the famed Dick Tracy comic strip until he passed at the age of 25 in 1986. AAEC created the Locher Award to recognize emerging North American cartoonists between the ages of 18-25 whose work "demonstrates both clear opinions and strong artistry on political and social topics." Gong will receive a $1,000 prize and the chance to attend AAEC's annual convention (postponed until next year).
"Catherine's work demonstrates a range of commentary from strong and poignant to precise and funny, all skillfully drawn with a unique voice," said this year's panelists. The 2020 award judges were comic book artist Pia Guerra (Y: The Last Man), comic artist Keith Knight (The Knight Life), and Pulitzer Prize-nominated political cartoonist Jen Sorensen.
Gong studied the art of editorial cartooning in the spring of 2020 in Ann Telnaes' Commentary Through Cartoons class. During the course, Telnaes taught students to create editorial cartoons across various formats, including animation, multipanel cartoons, motion graphics, and the traditional single-panel political cartoon. When the Institute closed due to COVID-19, the class turned its focus to the pandemic.
Gong's fellow CalArtians have similarly received distinction for their editorial cartoons this year—Erin McDermott's (Film/Video BFA 20) comic was featured in the print edition of The Boston Globe, and Kim McMahon's (Film/Video BFA 22) graphic essay was published in The Washington Post.
Check out more of Gong's political cartoons here, and find works from the runner-up and other notable submissions on the official Locher Award announcement.