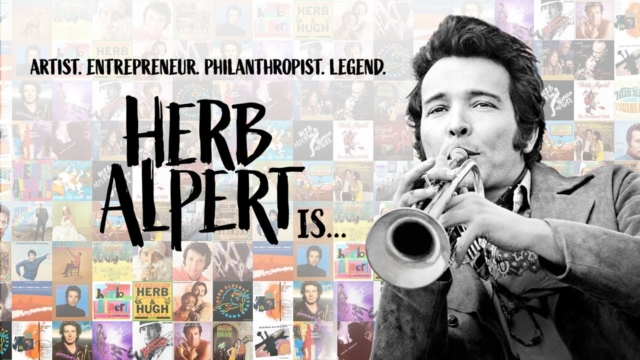 On Thursday, Oct. 1, at 8 pm EDT / 5 pm PDT, the documentary Herb Alpert Is… premieres with a worldwide streaming event on the Herb Alpert website. Directed by John Scheinfield (Chasing Trane: The John Coltrane Documentary, The US vs John Lennon), the film shares Alpert's story of becoming an extraordinary trumpet player, music executive, and philanthropist.
After the film's premiere, viewers are invited to stay and watch a live conversation with the legendary musician, Scheinfeld, and moderator Scott Goldman, public programs manager for the Grammy Museum.
The film will then be released in theaters and VOD the following day (Oct. 2), along with a Herb Alpert career-spanning audio boxed set. The 63-song collection is available as a five-piece, 180-gram vinyl set or a three-CD set. Both physical formats will also include a coffee-table book with 180 pages of vintage photos, liner notes, and an essay from respected music journalist Bud Scoppa.
Herb Alpert Is… celebrates Alpert's creative achievements and also explores his interior journey and personal struggles. The documentary features guest appearances by Alpert's colleagues including Questlove, Sting, and Bill Moyers. In an interview with Variety, Alpert talks about the film's purpose:
I think one of the things that is kind of fascinating about my life is that I, at one point, had the American dream come true. I had the gold ring, I had hit records, I was famous—and I wasn't feeling great. I was not happy. I think I said 'miserable' in the documentary. But I think people can relate to that feeling and the things you have to do to come out the other end. And I have come out the other end .… I wanted it to speak to other people. I didn't just want it to say, 'Isn't he wonderful?' I wanted it to have a feeling of honesty to it, and I think it really has that.
Alpert, a Grammy-winning artist with 14 platinum records, is the co-founder of A&M Records. He met his wife, Lani Hall, who was the original lead singer for Sergio Mendes' group, Brazil '66, when the band was signed to A&M. Alpert and Hall were married in 1973, and have been collaborating and performing together ever since.
The couple are major philanthropists through the Herb Alpert Foundation, and have supported CalArts through the years. In recognition of a $15 million gift to CalArts, the School of Music was renamed The Herb Alpert School of Music at CalArts in 2008. CalArts also works with the foundation to administer the annual Herb Alpert Awards in the Arts, which give recognition and support to mid-career artists.
Event Details
Herb Alpert Is...
Thursday, Oct. 1, 2020
5 pm PDT, 8 pm EDT
The live premiere will take place at www.herbalpert.com
Friday, Oct. 2, 2020
In theaters and VOD