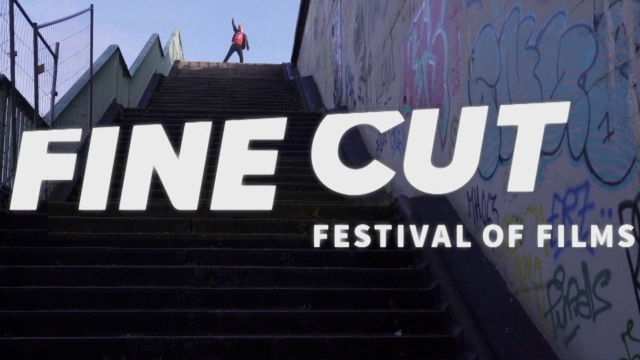 Update: Clarisse Chua (Film/Video BFA 20) won Best Animation at the Fine Cut Season 21 Virtual Awards Ceremony with her short "The Kitchlets."
---
The 21st season of KCET's Fine Cut Festival of Films kicks off Wednesday, Sept. 30 at 10 pm PDT, offering a "glimpse of the filmmakers of tomorrow" with short films in the animation, documentary, and narrative genres. The 2020 lineup features 19 short films, four of which were produced by CalArtians Lindsay Scanlan (Film/Video BFA 20), Clarisse Chua (Film/Video BFA 20), Phoebe Zhong (Film/Video BFA 21), and Siti Lu (Film/Video BFA 21). The selections, narrowed from a pool of more than 400 submissions, will screen on KCET as a series of four, hour-long shows.
The festival is preceded by a pre-taped virtual awards ceremony on Tuesday (Sept. 29) at 7 pm PDT, featuring clips from winning films. Up for grabs are the Fine Cut Awards for Best in Animation, Documentary, and Narrative Film, and the prestigious Jack Larson Award. The latter grants a single filmmaker an opportunity to join the American Pavilion Emerging Filmmaker Showcase of the Cannes International Film Festival in May 2021 (to be confirmed based on travel restrictions). The awards were selected by nine entertainment industry experts.
Watch the ceremony on KCET's YouTube page.
---
Episode Guide
The first CalArtian film to screen appears on Fine Cut's first episode, with Scanlan's "Two." Scanlan's short, inspired by her twin Jim, offers a snapshot of the lives of siblings Blue and Yellow, and their eventual separation. "Two" was an official selection at the Festival Biennial of Animation Bratislava (BAB). Watch "Two" below.
'Different Path': Wednesday, Oct. 14, 10 pm PDT
For its third episode, Fine Cut screens "The Kitchlets," Chua's thesis film. "The Kitchlets" follows a young woman named Mina, whose only company are the three small spirits, or Kitchlets, dwelling in her home. Watch the trailer for "The Kitchlets" here.
Also screening is Zhong's "Melted," a story about a girl who "recalls a formative childhood memory" of stealing a popsicle from a convenience store. The animated short was named the best student film at the 2019 Direct Monthly Online Film Festival. Watch the trailer for "Melted" below.
'Don't Panic': Wednesday, Oct. 21, 10 pm PDT
The fourth and final episode of Fine Cut includes Lu's "Mr. RuRu's Adventure." In 2018, Lu's first-year film "Dumpling," the story of a dumpling chef who helps a lost child, screened at the 19th annual Fine Cut Festival of Film.
Event Details
2020 Fine Cut Festival of Films
Virtual Awards Ceremony
Tuesday, Sept. 29, 7 pm PDT
KCET's YouTube page
Fine Cut Screenings
Episode 1: Wednesday, Sept. 30, 10 pm PDT
Episode 2: Wednesday, Oct. 7, 10 pm PDT
Episode 3: Wednesday, Oct. 14, 10 pm PDT
Episode 4: Wednesday, Oct. 21, 10 pm PDT
KCET