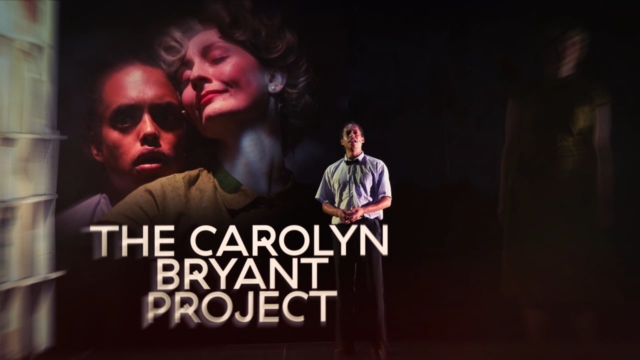 The CalArts Center for New Performance (CNP) has partnered with the Oregon Shakespeare Festival (OSF) to present free screenings of the world premiere of the critically acclaimed The Carolyn Bryant Project, available Friday, Oct. 9 to Thursday, Oct. 22 on CNP's digital platform.
The performance, postponed from its original premiere date (Sept. 18), is part of CNP's series of digital and streaming events. The Carolyn Bryant Project was created by OSF Artistic Director Nataki Garrett (Theater MFA 02) and School of Theater Faculty-Associate Dean and Co-Head of BFA Acting Andrea LeBlanc (Theater MFA 01), and premiered at REDCAT in 2018. Watch Garrett and LeBlanc discuss the production in an OSF "Art Talk."
The play is named for Carolyn Bryant (played by LeBlanc), a 21-year-old married white proprietor of a grocery store in Money, Miss., from whom Emmet Till (played by Jacob Romero Gibson (Theater BFA 15)), a 14-year-old from Chicago, purchased five cents worth of bubble gum in 1955.
A few days later, Till's beaten body was discovered in a river. Bryant's brother and husband were "acquitted of Till's murder by an all-white male jury, only to confess to the murder a year later in a Look Magazine article." It was not until 2017, more than six decades later, that Bryant broke her silence about the events.
"Carolyn Bryant was the only living survivor of this story," noted LeBlanc. "Her silence and lack of acknowledgement constitute a kind of violation that granted her an amnesty," remarked Garrett.
The Carolyn Bryant Project "conjur[es] the specter of Emmett Till's murder" in a non-linear manner as it attempts to piece together what happened in the few minutes shared by Till and Bryant in the store. The encounter, regarded as a catalyst for the Civil Rights movement, is re-imagined in the work through historical transcripts and video imagery, and draws striking and "terrifying" parallels from days past to present-day America.
"When we began this project in 2007, both Barack Obama and Hillary Clinton were running for President. Emmett Till's murder felt it might be part of a receding past. How different it all feels now," said Garrett. "I'm thrilled about reconnecting with CNP in this streaming collaboration, a place where my career as a director and artist took shape. I feel proud to be able to connect this project to audiences around the world right now, as we live through this time of alt-right racism and violence, and of surging uprisings for justice across the nation."
The Carolyn Bryant Project's original production team also prominently features several CalArtians, including:
Scenic designer: Eli Smith (Art, Theater MFA 18)
Costume designer: X. Hill (Theater MFA 19)
Lighting designer: Christopher Kuhl (Theater BFA 05, former School of Theater faculty)
Sound designer: Daniel Gower (Theater MFA 18)
Video designer: Edgar Arceneaux (Art MFA 01, Visiting School of Theater faculty) and Hsuan-Kuang Hsieh (Theater MFA 15)
Production manager: Kathleen O'Kelly (Theater MFA 18)
Associate producer: Sophie Blumberg (Theater MFA 20)
Technical consultant: Paul DiPietro (former School of Theater faculty)
Design consultant: Chris Barreca (Head of Scene Design and Robert Corrigan Chair in the School of Theater)
Digital presentations of The Carolyn Bryant Project on CNP's digital platform are presented free of charge, but tax deductible donations are welcome and will support the Institute's Black Arts Collective. To donate, type "Black Arts Collective" under the "Special Instructions" field on the CalArts Fund page.