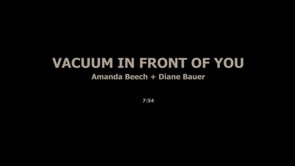 On Nov. 8, the short film, Vacuum In Front Of You, co-created by Dean of the CalArts School of Critical Studies Amanda Beech and Diann Bauer was released to the public as part of the art project Tegel: Speculations and Propositions.
In 2011, project curators Jaspar Joseph-Lester, Susanne Prinz, and Julie Westerman selected a group of international artists (including Beech) to respond to the closure of Berlin's Tegel TXL airport. Over a period of 18 months, the group of artists and writers observed and reflected on how the airport was used, and imagined how it might function in the future. The project includes a series of films, exhibitions, and publications. 
While Tegel airport was originally scheduled to be shut down in 2012, due to complications with the new Berlin airport, it was kept in commission for eight more years. The last commercial flight at Tegel airport took place on Nov. 8. To coincide with the official closure, all of the films, writing, and artworks were released online to the public. 
---
Earlier this fall, the CalArts Center for Discursive Inquiry from the School of Critical Studies launched Construction Site for Possible Worlds, an anthology featuring Critical Studies faculty. The publication was edited by Beech, Robin Mackay, and James Wiltgen. The publication arises from the work of the Critical Studies research group Language and its Possible Worlds, and "brings together different perspectives from the fields of philosophy, aesthetics, and art to discuss the mechanisms through which possible worlds are thought, constructed, and instantiated…," according to the research group's website. 
Additionally, Beech's essay "Death of Horror," was recently published in the anthology Diseases of the Head: Essays on the Horrors of Speculative Philosophy, edited by Matt Rosen. The book, published by Punctum Books, features a collection of essays that reside in the place where philosophy and horror meet.