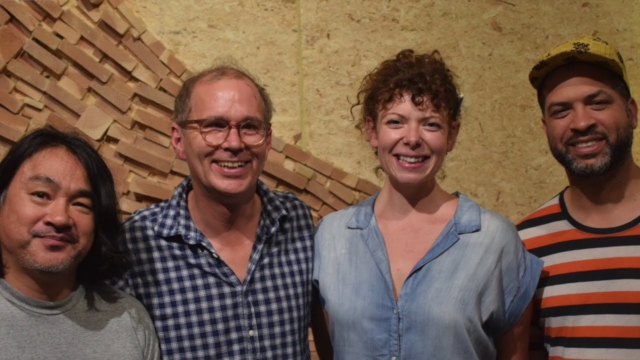 Experimental trumpeter and composer Steph Richards (Music MFA 08) curates an "inter-sensorial body of works" in Supersense, her third full-length album created in collaboration with Detroit-based multimedia artist Sean Raspet.
A recording several years in the making, Supersense explores how the senses "affect the act of listening." A recent audio introduction to Richards on The Wire UK includes an exclusive studio trailer for Supersense, as well as a selection of works from Richards' discography.
Praised by All About Jazz as "high-grade experimental avant-garde," Supersense proved an exciting recording challenge for Richards and her band. Richards enlisted the help of Raspet, a scent and flavors expert, to create unique aromas that would inform the playing on the album. Alongside bassist Stomu Takeishi, percussionist Kenny Wollesen, and pianist Jason Moran, Richards reacted to the series of Raspet's fragrances as they were individually emitted into the studio through scented cards.
"Supersense is a musical experiment, observing and seeing how sense can bring all of us closer and deeper into music," said Richards in the album's studio trailer. "It's an experiment in how scent can influence the ideas and expression of the improvising musician. It's also an experiment in the perception of the listener themselves."
The unique recording process allowed the musicians to experiment with new textures and materials and push the limitations of their individual instruments, engulfing them in what Richards described as an "unnameable, abstract, wordless space." After each take, the musicians were prohibited from discussing what they thought comprised the scents of each card.
Listeners can recreate the studio experience for themselves from the comfort of home—the scents Raspet created for Supersense's recordings are also available as scratch and sniff cards accompanying the physical album (available for purchase via Northern Spy).
"What was really beautiful about this project is the scents are completely abstract," said Richards. "There's nothing you can quite define about them, but they might evoke an emotional response, they might make you think about texture or color, or even taste, but it's really not anything you can put your finger on."
Named a "rising force in avant-garde jazz" by JazzTimes, Richards elevates her star status with this third album. She was featured in DownBeat Magazine's 'Best Albums of 2019' issue for her previous album Take the Neon Lights (Birdwatcher Records). Her debut album Fullmoon (2018) was released by Relative Pitch Records.