How do you teach theater design students how to hang a lighting truss, video walls, scenic elements, and speakers high above a stage so they don't come crashing down on actors' heads if students can't physically install the equipment? That was one of the challenges facing Michael Darling, head of Technical Direction at CalArts, when the Institute switched to remote instruction due to COVID-19.
Among the five classes Darling is teaching this semester are courses on the drafting software AutoCad; Digital Fabrication for Model Making, in which students design set models on computers; and Rigging, a class in which students learn the technical aspects of suspending and securing equipment for theatrical productions. Rigging involves teaching mathematical formulas as well as hands-on work in the campus theaters, putting those calculations into practice.
To shift to online teaching, Darling first converted his home studio into a virtual classroom, storing away his tools and supplies and bringing in computer equipment. In July, he began making video tutorials on the software and basic concepts that students would need to know in three of his classes. Completing the videos early enabled him to devote valuable class time to more advanced material. 
Once classes began, Darling recorded them all, going back at night to edit each class—typically just under two hours—into about seven 15-minute-long videos, each focusing on a particular topic. So far, he has created nearly 200 videos, which he has uploaded on YouTube. One advantage of this growing library of instructional videos is that students can easily review the material on their own time. In the past, if they were doing homework and had a question for Darling, they'd have to wait until they could speak to him in person. Now they can usually find a solution immediately by reviewing the videos. "If Michael says something in class that I need to review, I can go on YouTube, see what he did, and go from there," says Jeannette Srinivasan, a second-year BFA acting student taking his AutoCad class. "It makes it so much easier."
For his rigging class, Darling spent the first half teaching mathematical concepts before he began recording in one of the theaters on campus, where he could demonstrate to students actual rigging techniques. The students have ropes at home so they can try tying different kinds of knots used to suspend equipment and can also watch animations on knot tying. "As long as we can see the students' work on Zoom, we can tell if they are doing it properly," says Todd Piedad, a fourth year undergraduate student in Design and Production who serves as Darling's teaching assistant. Because improper rigging can have catastrophic consequences, next fall, when Darling expects to be teaching in person again, he plans to bring the students into the theater so that they can get in-person experience.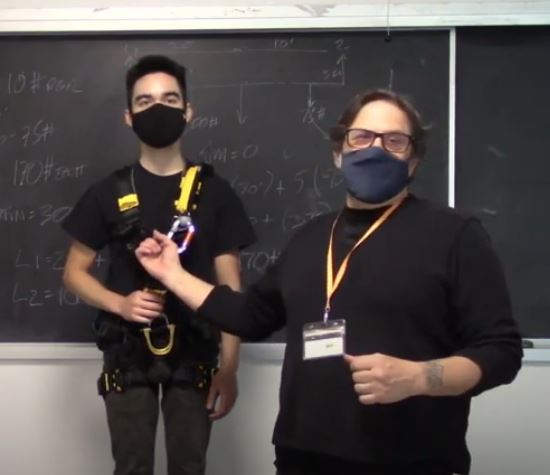 In his 17 years at CalArts, Darling has become a popular teacher because of his expertise combined with an easy rapport with students. So it took some time for him to get comfortable teaching remotely. "Because I'm teaching to a camera, it sometimes feels like I'm teaching to an empty room," he says. Students often turn off their cameras, and Darling says "It's very hard to teach to black boxes with someone's name on it." Part of the duties of his teaching assistants is to keep their cameras on and converse with Darling during class, so it can feel more like a regular classroom.
Teaching online can also suffer if production values are low. "I want high quality," Darling says. "So I've invested in professional lighting and sound for my studio. Instead of just reading or lecturing to the students, I add illustrations and even try to have fun with it by adding fake sponsorship messages. I try to figure out how to make the experience more interesting."
For students, there have also been significant adjustments to online classes. "While I was apprehensive about the AutoCad class, Michael explains everything eloquently," says Srinivasan. "It would be nice to be physically in the classroom so I could raise my hand if I had a question, but there are ways to get help, such as sending a message in chat. It's a different way of learning, but I don't think it has inhibited me. You can't fight against challenges, but work with them."
One unanticipated benefit of remote teaching for Darling is that he now has a library of online classes that he can deploy in the future. "I spent a lot of time on the front end, creating these classes, but now there's an archive," he says. "If we get to the point where we're just watching videos, we're in trouble, but I can use them in the future even when we are face to face. The students can watch the videos and then I can focus during class on their projects. I'm looking forward to this ending like you can't believe, but I've learned a lot of things that I will be using again."
— by Michael Rogers