CalArts faculty, musician, and sound engineer Emily Evans didn't miss a beat when the COVID pandemic sent faculty hustling to redesign classes for remote learning. Evans leaned into the challenge and her past experience to introduce Production as Composition for BFA3s, 4s, and MFAs. The collaborative ensembles class takes its cue from an endeavor she launched while living in Scotland and led a mobile recording project with musicians from Scotland, Belize, and Ghana. That collaboration resulted in Youth Stand Up!, a 10-track crosscultural album that was named among the Best Albums of 2015 by The Vinyl Factory.
Building on that production's success, Evans' goal for the CalArts endeavor was to take a global mix of artists, students, audio, music, sounds, and vocals and have students develop two critical skills: acquiring hands-on production experience with a multitrack workstation for editing, sampling, morphing, and looping; and navigating the technical, interpersonal, and intercultural challenges of remote collaboration.
Her first step was musical matchmaking. In late summer, Evans shared a Spotify playlist with students, featuring artists with whom she had worked and who had been put forward by project partners Dublab, Sublime Frequencies, Mais Um Discos, and Nyege Nyege Tapes. The students reacted very favorably to the possibility of a collaboration, so in turn, Evans shared the students' sample tracks to her artist network.
"They were excited to work with CalArts students on projects, and we're thrilled with the talent students could bring to their ensembles. A perfect match," said Evans during a recent email interview.
In a synchronistic twist, her students are now working with some of the same musicians from Tafi Cultural Institute in Ghana involved in the aforementioned award-winning album. Other international artists involved in the CalArts collaboration include Adham Zidan and Nadah El Shazly in Egypt; Dustin Wong in LA with Takako Minekawa in Japan; MC Yallah in Uganda with Debmaster in Germany; Lucas Santtana in Brazil; Nihiloxica in both the UK and Uganda; the Meridian Brothers in Colombia; Sun Araw in LA; and Francis Ayamga with TopLink Studios in Ghana.
"As a person of Afrikan descent, I was excited to work with an artist on the continent, and after hearing Francis' productions, I knew I wanted to work with him," said Askia Vargas Toure (MFA1, Composition and Experimental Sound Practices). "Collaborating with Francis in Ghana has been beautiful and rewarding."
Anais Azul (MFA 1 Performer-Composer), who has been working with the Brazilan singer, songwriter, and guitarist Santtana, said, "Lucas has opened a window into new genres, including Tropicalia. I simply never would have made music in this genre because I was unfamiliar with it before this class."
Becoming adept at new technologies—including remote producing—is critical in the music industry. "When I worked on previous collaborations, I traveled to studios in other countries, often lugging recording equipment from place to place. Now, even our homes have the capacity to be a recording studio," Evans said. "We can create a similar, or even better, virtual experience—no suitcase needed."
To help facilitate full class participation, CalArts distributed 60 home audio kits to music school students, ensuring their personal studios were well-equipped. In addition, two sponsorships allowed students to learn and work with the technology necessary for these collaborations. Soundtrap contributed digital audio workstations (DAWs), which allow an ensemble recording in different locations to see changes happening in real time, and Shure Microphones donated 20 new SM58 microphones and cables.
Working across time zones, students and artists layer tracks individually as they collectively play (sometimes in different countries) as an ensemble. With the DAW, musicians freely add or subtract layers to each other's work.
"When I heard the first audio tracks that Francis sent I struggled to find a sense of familiarity," said Toure. "However, the more I listened, the more I was able to utilize my background in Afro-Cuban percussion to interpret the musical language he was communicating. I began to see his music as a conversation as opposed to numbers on a grid. Ultimately, through our collaboration I learned that the Eurocentric way of musical time-keeping has vast limitations and can create further confusion when collaborating internationally and interculturally. My sense of phrase and timing has expanded because of it.
"I feel fortunate to have a window into the Ghanaian and Frafra culture that he is part of, especially as a descendent of enslaved Africkans robbed of our indigenous art practices."
Throughout the semester, the ensembles have continued to modify each other's work, often taking the original creation in a whole new direction through a remix or carefully emphasizing certain tracks. They have created multiple iterations as each producer envisions the piece in different ways.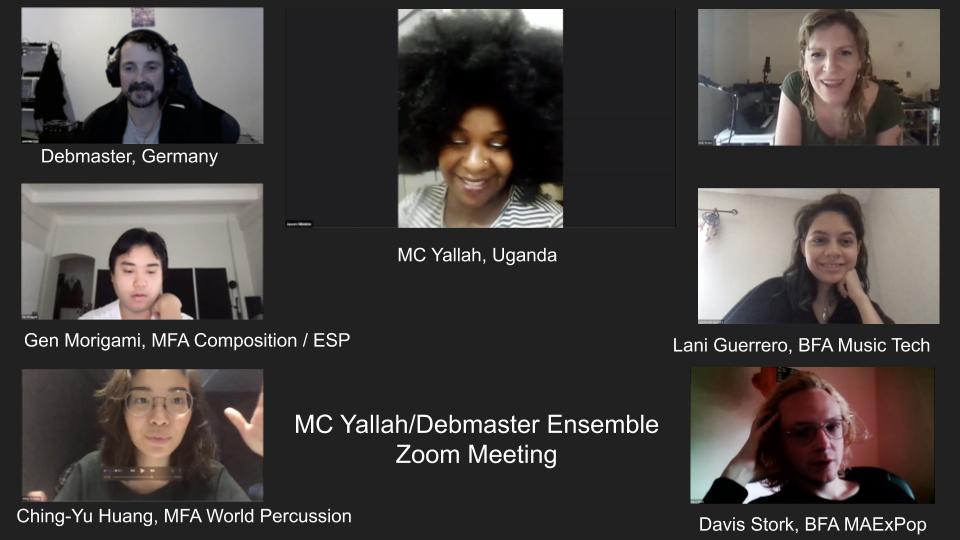 "I really enjoyed collaborating with Eblis' alias Meridian Brothers because he was so generous with his time, skills, and musical perspectives," said Azul. "He taught us about how to approach mixing and even called for us to delegate lead producers for each project, something that gave me a clear sense of leadership, responsibility, and creative motivation. I have learned that collaborating with people who are not tied to genre is one of my favorite musical things to do. This class has made tangible the notion that we have the world at our fingertips—there are no limits to our creative potential."
The projects are helping students develop new technical skills that will be essential for success long after the pandemic subsides.
Kristen Gleeson-Prata (MFA2 World Percussion) has been in two ensembles: one with Santtana, and the other with Wong and Minekawa. "This year started as a big blow to music, creativity, and collaboration in general, but experiences like this show us that all of these things we care about can still go on. I imagine we wouldn't be working remotely and virtually with artists on the other side of the world if we weren't in the middle of a pandemic!" noted Gleeson-Prata. "This experiment has been a big success because everyone has been very open, communicative, and respectful of one another's ideas. While collaborating and composing remotely is a different kind of creativity, I have learned that I sometimes take more risks when I'm alone in my studio than I would if I was in a room with everyone. I can try out crazy ideas in my solitude and then decide whether I want to use them or not. I've learned skills including arranging and mixing that I am already using in other projects!"
Looking forward to the full class and artists coming together to share each other's work, Evans said, "There have been so many positive surprises in this class including the depth of work that happened in just a few short months. The level of new sounds coming into the music school is refreshing and a very positive direction for us and everyone else involved. I am committed to creating more of these experiences when classes return in person. The possibilities are infinite."
The results of the class' global mixing is a rich student experience and new music—both hallmarks of CalArts. Production as Composition has not only become a popular CalArts class, but it has also launched several new recordings that will debut at a listening party on Dec. 18. Plans are also underway for a remote spring performance at REDCAT.
—by Marylou Ferry