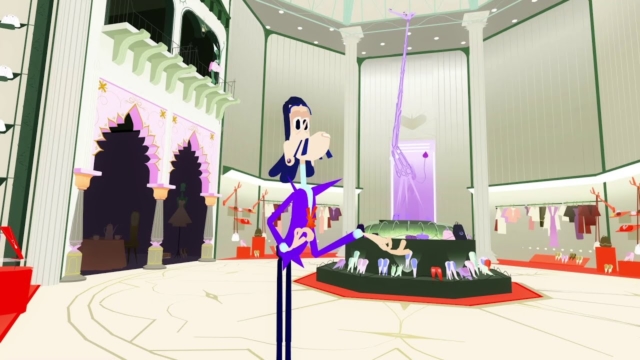 CalArtian and former Disney animator Yonatan Tal (Film/Video BFA 17) is making a splash in the world of VR with "Lifetime Achievement," the first project released by Tal's animation studio Parade. Developed in partnership with Oculus and created with the platform's VR software Quill, "Lifetime Achievement" is the "longest narrative made entirely in VR using Quill to date," according to Animation Magazine.
The 15-minute short tells the tale of Albert, an eccentric, world-renowned French designer (voiced by Darren Jacobs) and his quest to procure the perfect gift for his beloved 70-year-old mother (voiced by Marieve Harington). As Albert traverses space and time to obtain the galaxy's finest materials and create the ultimate gift, his mother's fast-approaching birthday forces him to re-evaluate what matters most in life. Watch the trailer above.
The original story is based on Tal's personal experience of leaving his friends and family in Israel to study in CalArts' Character Animation Program, and highlights "universal and cross-generational themes such as self-realization, immigration, and the challenges of maintaining a real-life presence with family in a technologically advanced world."
Tal first learned to use VR in his final year at CalArts, during which a VR class was offered for the first time, according to a recent interview with Forbes. After working for two years in the development department at Disney TV Animation, Tal took the plunge and immersed himself into learning about VR production and eventually creating Parade.
"We already have a few exciting projects in development," Tal told 24700 in a recent email interview. "This year, we will produce more VR narratives that are completely different from 'Lifetime Achievement' tonally and in their storytelling approach. I'd like to tackle a story that's a bit more mature in its themes, as that's usually the type of material I gravitate towards. Other than that, we're exploring new avenues in the interactive arena and we're considering potential collaborations, which I'm also very excited about."
"Lifetime Achievement" is now available to view on the free Quill Theater app in the Oculus store. For updates on Parade's future projects, check out the studio's Instagram account.
Born in Israel, Tal is a Los Angeles-based director and animator who was named by Animation Magazine in its list of "Rising Stars of Animation 2019." In 2018, Tal's CalArts student film "Nightmare in the Morning" premiered on Disney XD, the first time a student film had ever been broadcast on its network.