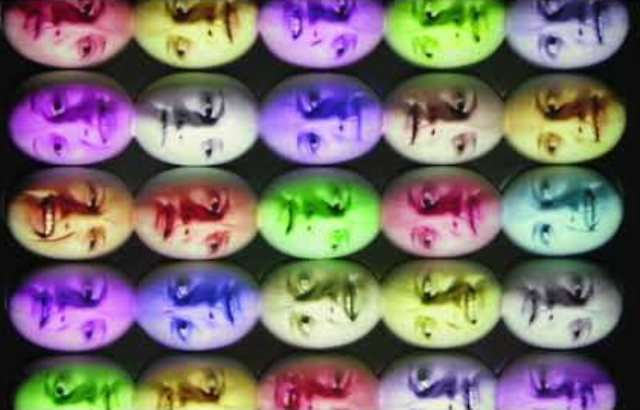 The Kaohsiung Museum of Fine Arts (KMFA) in Taiwan presents Black Box, an exhibition of works by prominent multimedia artist Tony Oursler (Art BFA 79). The exhibition, which is being billed as his first major retrospective in Asia, according to Ocula Magazine, opened on Jan. 23 and runs through Sunday, May 16.
Oursler's fascination with "mystical phenomenon and origin of the camera obscura" comes into focus in Black Box, which combines immersive installation art and projected moving images. From the official KMFA exhibition page:
In the intersection of multimedia, audio-visual practice and poetry, Oursler develops lifelike video sculptures which simulates human psychological characteristics. With satire humors, he guides viewers through image environment to explore the human mind, spirit, popular culture, and the ambiguity of modern technology. Black Box is the first full-scale retrospective of Tony Oursler in Asia, this momentous exhibition will showcase his most definitive video installations, experimental films, and cinema work over nearly four decades.
Black Box was originally scheduled to open in April 2020 during the Kaohsiung Spring Arts Festival, according to Ocula. After an initial postponement to November 2020, the opening was pushed to the current dates.
Oursler's exhibition is accompanied by a 20 episode-long artist talk series, in which he discusses his work with fellow contemporary artists and curators. Watch the episodes on KMFA's digital platform, and explore the Black Box website here.
Born in New York, Oursler is considered a pioneer in new media art for his innovative multidisciplinary practice. His work has been presented in numerous solo and group exhibitions around the globe, and are in the public collections of museums and galleries including LACMA, the Musée National d'Art Moderne in Paris, the Hara Museum in Tokyo, and the Tate Gallery in London. In 2017, the Museum of Modern Art (MoMA) in New York City presented his exhibition Imponderable. The following year, nonprofit Public Art Fund presented Tear of the Cloud, a commission from Oursler.
Event Details
Tony Oursler: Black Box
Saturday, January 23—Sunday, May 16
Kaohsiung Museum of Fine Arts
No. 80, Meishuguan Rd., Gushan District, Kaohsiung City, Taiwan 804
Tickets