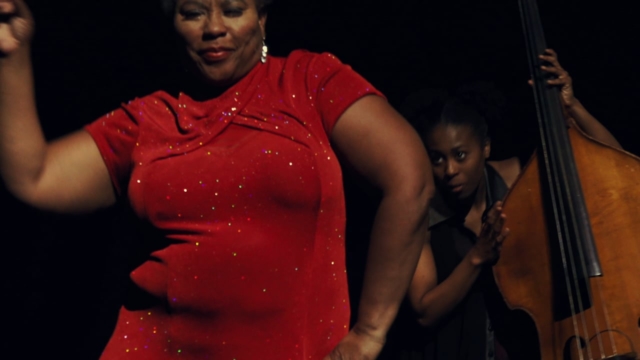 The 2021 Sans Souci Festival of Dance Cinema presents a virtual screening of CalArts faculty Francesca Penzani's (Dance-IM MFA 99) short dance film "Double Up" (2017) as part of its Black History Month programming, running from Friday, Feb. 26 to Sunday, Feb. 28.
Penzani's official site describes "Double Up" as a "Jazz conversation and celebration" between double bassist and vocalist Nedra Wheeler (Music MFA 89) and tap dancer Kyreeana Alexander (Dance BFA 16). Penzani, who currently serves as faculty in The Sharon Disney Lund School of Dance, directed and co-produced the film with fellow CalArtian Emily Drossner (Film/Video MFA 18). From the festival's official website:
My heart's beating inside myself, inside yourself, the heart of the earth. I am here are you? Can you see me? Can you hear me? Based on a dream to bring two women together to create a collaboration that celebrated the joy of being alive, "Double Up" is a powerful conversation, through music and dance: Nedra Wheeler on bass and voice, and tap dancer Kyreeana Breelin.
"Double Up" was named the winner of the 2018 San Souci Festival's Audience Choice Award. The film went on to receive various distinctions, including semifinalist at the 2018 Global Short Film Awards Festival, finalist at the 2018 Utah Dance Film Festival, the Best Experimental Diamond Award at the 2018 LA Shorts Awards, and Best Music Video Award at the 2018 Hollywood Verge Film Awards.
The short film was originally commissioned by The Sharon Disney Lund School of Dance and created in part through Penzani's participation in the 2017 Evelyn Sharp/CalArts Summer Choreographic Residency. In 2017, the film screened at CalArts' Bijou Theater after its official premiere at the Vision Dance Film Festival in Taiwan, which was organized and directed by CalArts alum Pei-hsuan Li (Dance MFA 07).
Sans Souci Festival's virtual screening of "Double Up" is free and available to the public.