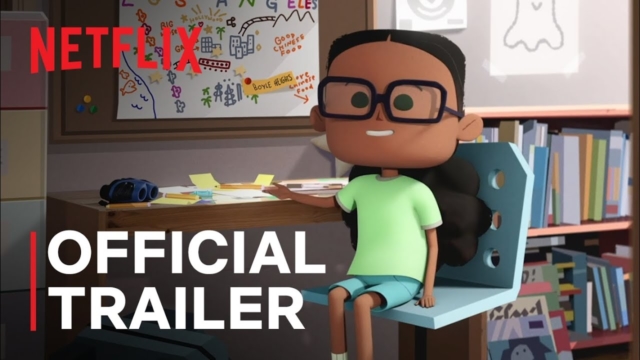 Award-winning animator Elizabeth Ito (Film/Video BFA 04) weaves the supernatural into the richly diverse Los Angeles communities of her childhood in her hybrid documentary and animated series City of Ghosts, which is now available on Netflix.
Ito serves as a first-time showrunner on City of Ghosts, as well as its executive producer.  Inspired by her experience as a "yonsei" (fourth-generation Japanese American) growing up in LA's multicultural neighborhoods, the series offers a look at the city through the lens of the five members of the "Ghost Team"—Zelda of Boyle Heights, Thomas of Santa Monica/Venice, Eva of Leimert Park, Peter of Koreatown, and Jasper of the Tongva tribe, the indigenous people of the entire Los Angeles basin. The series was also influenced by Ito's realization that the city in which she grew up has significantly transformed and her desire to relate the stories of communities that threatened to be overwritten by gentrification.
"I noticed that the city has changed so much, so a lot of neighborhoods that were a certain way when I was little were not that way anymore," Ito stated in a recent interview with KCET.
The Ghost Team's adventures take them throughout the city, where they speak with people and ghosts alike to uncover the reason for their hauntings. Their paranormal escapades are documented by Zelda's older brother, an amateur documentarian named Jordan. As the children befriend the spirits, they gain a deeper understanding of the city and its history. To lend authenticity to the series, Ito worked with co-executive producer Joanne Shen, whose documentary credits include work for Al Jazeera America, National Geographic, and PBS. Ito, Shen, and their team crafted storylines that incorporated interview and oral histories from members of LA's numerous communities.
"I tend to like things that are not generic," Ito said of her unconventional practice. "I usually lean into weirdness whenever possible. Like whenever you're given that permission to do something that somebody might not normally do that way, those are the things that I like to work on."
Ito is a 15-year animation veteran who previously worked as a director and writer on Pendleton Ward's (Film/Video BFA 05) Adventure Time. She won an Emmy Award for Outstanding Short Form Animated Program in 2017 for the episode "Islands Part 4: Imaginary Resources."
Ito is also the creator of "Welcome to My Life," for which she received the 2017 New York International Children's Film Festival (NYICFF) Audience Award. "Welcome to My Life" is also the second-most viewed animated short in Cartoon Network history to date, and credited as the project that "landed her on Netflix's doorstep."