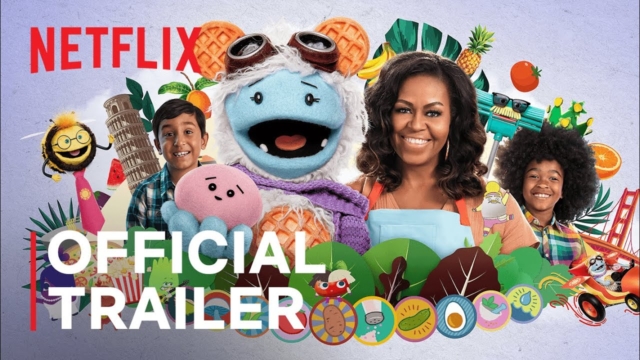 Netflix dishes up the "wonders of food and culture" in Waffles + Mochi, a vibrant new series about food, nutrition, and culinary traditions from around the globe. The series' animated sequences were provided by LA-based animation studio Six Point Harness, of which Musa Brooker (Film/Video MFA 08) serves as creative director.
The show features two puppets named Waffles and Mochi, who learn about food and nutrition from a local grocer played by former first lady Michelle Obama (one of the series' executive producers). Qadriyyah Shamsid-Deen (Film/Video MFA 10, Theater MFA 09), a creative executive at the Obama's Netflix-based Higher Ground Productions, also serves as a producer for Waffles +Mochi.
The duo's culinary adventures take them around the world, and meet up with renowned chefs and celebrity guests along the way.
"Working on this series was amazing – an honor and a pleasure!" Brooker said in a recent Animation World Network article. "It's so wonderful to be part of a project that's caring, careful, thoughtful, and fun! Healthy diet and nutrition, especially for younger people, is obviously an important subject and one that is particularly meaningful and special for Mrs. Obama – children's health is one of her signature issues. So, it's been a thrill to play a role in this project that addresses the subject in a fun, enlightening, and entertaining way."
Among Six Point Harness' contributions to the series are animating the titular Mochi, as well as applying stylish animated designs to numerous colorful scenes shot on-location around the world. The studio also animated standalone segments used to "enhance and amplify the discoveries made each episode by the characters" and guests.
Established in 2003, Six Point Harness was founded by fellow CalArtian Brendan Burch (Film/Video BFA 00), who serves as CEO. The studio's recent projects include the Oscar-winning animated short "Hair Love," directed by Matthew A. Cherry, Everett Downing Jr., and CalArtian Bruce W. Smith (Film/Video BFA 83).