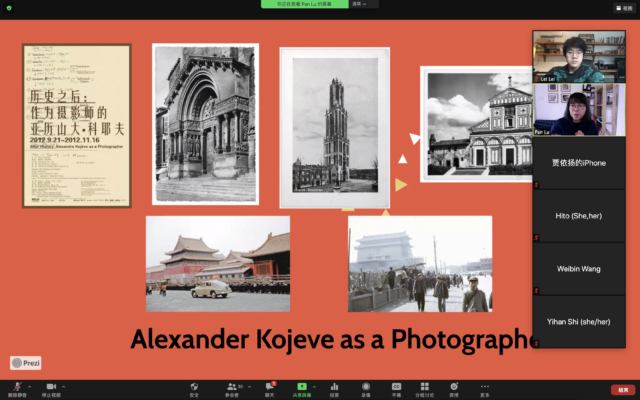 "Is memory genuine or fictitious? Is it romantic or harsh?" Through the use of family mementos and secondary source audiovisual materials, students investigate these themes through the lens of personal memories in Memory Clash, a video installation class taught this spring semester by School of Film/Video faculty Lei Lei.
Students began the semester by identifying a personal memory and working with old family photographs, then proceeded to create collages with these and materials sourced from the internet, magazines, social media, found footage, and more to fill out their narratives. Throughout the semester, students develop their stories with the aid of sound and moving images in order to supplement gaps in their own memories. Their projects culminate as animated short films or video artworks.
Though the course usually concludes with group exhibitions held in-person on the CalArts campus, Memory Clash was well-suited to adapt to the COVID-19 pandemic—as Lei Lei has been teaching the course remotely from Beijing. 
"I miss some emails or meetings with my students and my colleagues because of the time zone difference. I feel lonely sometimes and far away from the CalArts family," Lei Lei told 24700 in a recent email interview. "But it seems that we are slowly used to the remote class this semester."
屏幕快照 2021-03-12 下午12.49.40

屏幕快照 2021-03-12 上午11.39.29

On March 11 and 12, the class featured a virtual artist talk titled "Postcard, Archive and Home Video: On Forms of (Re-making) Memories," co-sponsored by the Institute and Minsheng Art Museum in Beijing. Visiting artist Dr. Lu Pan from The Hong Kong Polytechnic University discussed art projects in which she participated between 2014 and the present, and how her artistic practice and academic research deal with the relationships between individual and collective memory, history, and images. The talk also included a screening of her experimental film Miasma, Plants, Export Paintings (2017), created in collaboration with artist Bo Wang.
"The good thing is that I find it easier for me to invite visiting artists to the Zoom meeting room to have screenings or lectures with my students," Lei Lei noted of remote instruction's advantages. "There are many audiences from the Art Museum who logged in to the Zoom talk and participated in the classroom discussions, which I think is very interesting. The space of the classroom and the Art Museum are integrated smoothly."
An in-person screening of the students' films is tentatively scheduled be held at Minsheng Art Museum in May.