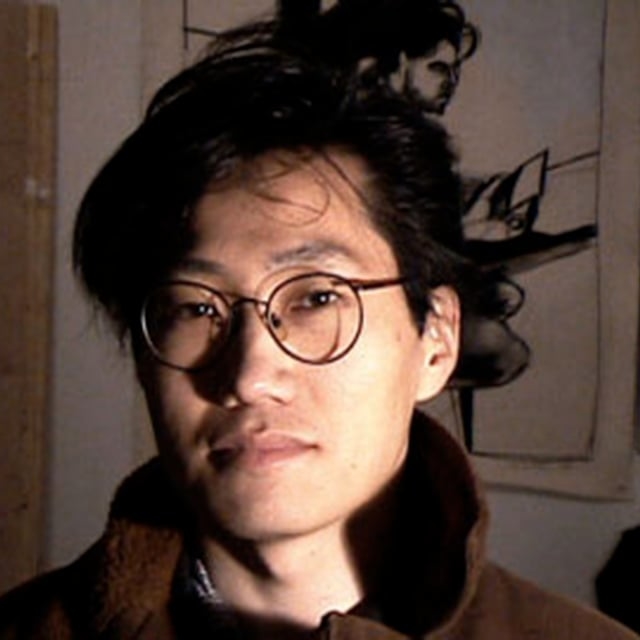 On Thursday, April 8, the CalArts Animation: The Early Years virtual lecture series welcomes Peter Chung (Film/Video 81) to discuss his renowned career as an animator and director. The series is open to CalArts students, faculty, staff, and alumni.
Chung is arguably best known as the creator of the avant-garde sci-fi action series Æon Flux, which aired between 1991 to 1995 on MTV and was adapted in 2005 as a live action feature starring Charlize Theron. As a director, his credits include the "Matriculated" segment from The Animatrix, Reign: The Conqueror, and The Chronicles of Riddick: Dark Fury. He also served as lead character designer for the animated series Teenage Mutant Ninja Turtles (1987), C.O.P.S. (1988), Phantom 2040 (1994–1996), and Reign: The Conqueror (1999), and co-designed the characters in the Nickelodeon series Rugrats alongside fellow CalArtian Arlene Klasky and Gabor Csupo. Chung's distinct style, influenced by Austrian painter Egon Schiele, is instantly recognizable through elongated bodies and dynamic poses.
According to a 2008 interview with Animation World Network, Chung's interest in animation was piqued as a high schooler when he caught a screening of CalArts student films at a film festival. "At that point," Chung noted, "I knew that was what I wanted to do. CalArts was the only school that I applied to. I just knew that I was going to get in." Chung was accepted in 1979, and spent one year at the Character Animation Program followed by another in the Experimental Animation program.
At the age of 19, Chung was designing characters for Hanna-Barbera; around this time, he also worked on layout and development on Ralph Bakshi's fantasy adventure film Fire and Ice (1983) before being hired by Disney for feature development.
In a 2014 interview with Former People: A Journal of Bangs and Whimpers, Chung discussed that his motivation to animate comes from a desire to explore new ways of thinking, rather than what he classifies as the typical justifications: producing entertainment or delivering a message.
The thing is I found that neither of those possible justifications really satisfied me. So in thinking about what is it that I get from the works that I enjoy, I realized that it was a way of thinking. It was a process rather than some kind of nugget of truth or some kind of answer to "what does life mean" or anything like that … which I don't think an artist has any kind of authority to be able to pronounce in the first place.
Chung's emphasis on filmic language is evident in his visual direction masterclass, in which he presents "methods and strategies for delivering content in a compelling way that viewers will not only want to watch, but watch repeatedly." Students are instructed to draw a variety of scenes that evoke specific moods or achieve certain aesthetic goals.
Chung is the recipient of the 2011 Emmy Award for Outstanding Individual Achievement in Animation for directing and co-producing FireBreather (2010), a computer animated fantasy feature adapted from a screenplay by James Krieg, in turn based on a story by Phil Hester and Andy Kuhna.
Event Details
'Visiting Artists | CalArts Animation: The Early Years': Peter Chung
Thursday, April 8, 7:30-9:30 pm PST
Off campus. This Q&A with Chung is open to CalArts students, faculty, staff, and alumni only.
To RSVP for the Zoom link or for additional information, contact School of Film/Video faculty Michael Scroggins via aka@calarts.edu.