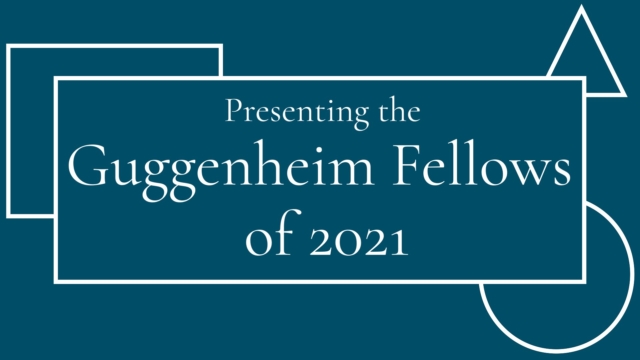 This morning (April 8), the John Simon Guggenheim Foundation announced its newest class of Guggenheim Fellows. The prestigious grant was awarded to 184 individuals who have demonstrated "exceptional capacity for productive scholarship or exceptional creative ability in the arts." Several CalArtians are among this year's winners: Karen Lofgren (Art MFA 00), School of Art faculty Cauleen Smith, Michael Jang (Art BFA 73), Melissa Thorne (Art MFA 98), and Don Mee Choi (Art BFA 84, MFA 86).
View this post on Instagram
Lofgren is a Los Angeles-based artist whose research in ritual, history, and mythology takes shape in sculpture, installation, and other media. Her recent solo exhibitions include What is to Cure and Other Relevant Experience at Royale Projects Contemporary Art, Los Angeles; On the River at VOLUME, Los Angeles; and Trajectory Object c. 2000-2050 with High Desert Test Sites, Joshua Tree; and Stabilizers at Armory Center for the Arts, Pasadena. She is the recipient of the Pollock-Krasner Award (2019), a Fulbright Scholarship and Core Scholar Award (2017-18), a Durfee Foundation ARC Grant (2009), and a Canada Council for the Arts Production Award (2003).
Smith is an interdisciplinary artist who roots her work firmly within the discourse of mid-20th century experimental film. Her work draws from structuralism, third world cinema, and science fiction. Smith's films and installations have been showcased at film festivals and museums across the globe, including the International Film Festival Rotterdam, the Whitney Biennial, Mass MoCA, and SFMoMa. She is the recipient of the Rockefeller Media Arts Award, Creative Capital Film/Video award, Chicago 3Arts Grant, Ellsworth Kelly award, and the Herb Alpert Awards in the Arts in Film and Video, to name a few. The 2020 Wein Prize winner's exhibition Give It or Leave It is currently on view at LACMA.
View this post on Instagram
Jang is an Asian American photographer whose work spans a diverse range of subcultures and scenes, such as celebrity parties in Beverly Hills, Castro's Cuba youth, South City gangs, Old West rodeos, the punk rock scene of the 70s, and even his days at CalArts. A collection of Jang's photographs, including those from his time at CalArts were recently published in his book Who is Michael Jang? SFMoMA has recently acquired a number of his early prints and has exhibited them alongside contemporaries such as Garry Winogrand, Diane Arbus, and Lee Friedlander.
Thorne is an artist whose practice includes multiple formats, from paintings on canvas and paper, to large-scale, site-specific wall drawings in ink and watercolor. Her work has been included in exhibitions at the Los Angeles County Museum of Art, the Museum of Fine Arts Houston, and shown in solo and group shows at Suzanne Vielmetter Los Angeles Projects, Galerie Schmidt Maczollek, Cologne, German; and Rosamund Felsen Gallery, Los Angeles, among many others. Thorne is an Assistant Professor of Studio Art, and Painting and Drawing Area Head at University of Albany. 
A poet and translator, Choi was born in Seoul, South Korea, and lived in Hong Kong before moving to the United States. She is the author of The Morning News Is Exciting (Action Books, 2010), Petite Manifesto (Vagabond, 2014), and Hardly War (Wave Books, 2016). She has translated many poems from Korean to English, including Kim Hyesoon's books Mommy Must Be a Fountain of Feathers (2008); All the Garbage of the World, Unite! (2011); Sorrowtoothpaste Mirrorcream (2014), a finalist for a PEN Poetry in Translation Award; and I'm OK, I'm Pig! (2014). Choi is a winner of the Whiting Award and of the Lucien Stryk Asian Translation Prize.
Each class of Guggenheim Fellows is examined and reviewed by experts in their dedicated field, and then further ranked by a network of several hundred advisers, all of whom are former Guggenheim Fellows. These recommendations and rankings are reviewed by a selection committee, which determines the number of awards to be made in each area.
Since its establishment in 1925, the Foundation has granted more than $375 million in fellowships to more than 18,000 artists, writers, performers, musicians, and scholars.