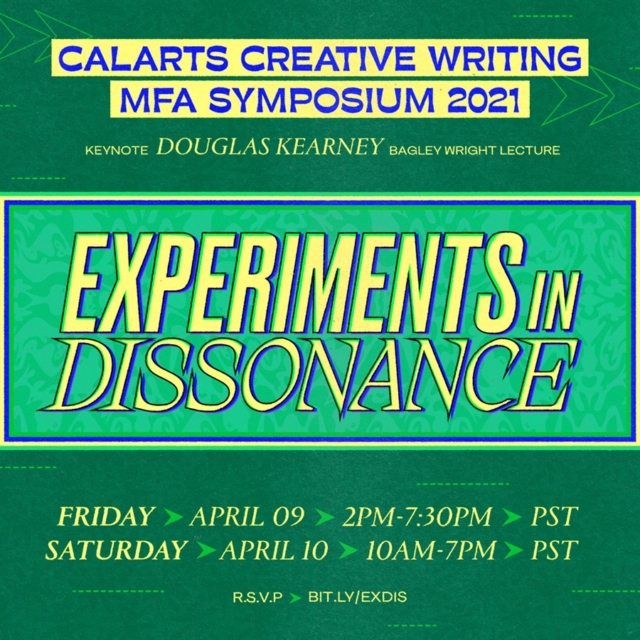 The MFA Creative Writing Program in the School of Critical Studies presents "Experiments in Dissonance: A Symposium of Interdisciplinary Writing," running from Friday, April 9 to Saturday, April 10.
This year's symposium takes place virtually and in partnership with the Bagley Wright Lecture Series on Poetry, featuring the keynote lecture "You Better Hush: Blacktracking a Visual Poetics" by poet, librettist, and former CalArts faculty Douglas Kearney (Critical Studies MFA 04). Also featured is "Form/Deform/Reform," a conversation with 2020 Anna Rabinowitz Prize recipient Lillian-Yvonne Bertram and Aesthetics and Politics faculty Michael Leong.
MFA candidates in the Creative Writing Program will present a range of readings, performances, and hybrids thereof throughout the two-day symposium. The works will focus primarily on research and practice as they relate to each of the program's four concentrations: Image + Text, Documentary Strategies, Writing + It's Publics, and Writing + Performativity.
From "Transpoetics: The lyricism of transmasculine vocalization" and "[de]cypher" to "More Rupture Than Suture" and "Latinxperimentando," the sessions underscore how the program encourages students to "interrogate and hold the space between inherited formal and genre conventions and the pleasures of risk-taking artistic endeavor," from which vibrant new works emerge and the writing arts are advanced.
The symposium's title, "Experiments in Dissonance," pays homage to Discrepant Engagement: Dissonance, Cross-Culturality and Experimental Writing, by American poet and anthologist Nathaniel Mackey. The book pays particular attention to Black writers based in the US and the Caribbean such as Kamau Brathwaite, Amiri Baraka, and Clarence Major, as well as poets such as Charles Olson and Robert Duncan. Mackey noted how these writers engaged "the discrepancy between what we often presume as 'norms' in creative practice, and the qualities of experience that such norms fail to accommodate."
View the symposium's website for information about individual presenters as well as the full event schedule.
Event Details
Experiments in Dissonance: A Symposium of Interdisciplinary Writing
Friday, April 9: 2-7:30 pm
Saturday, April 10: 10 am–7 pm
Online
RSVP