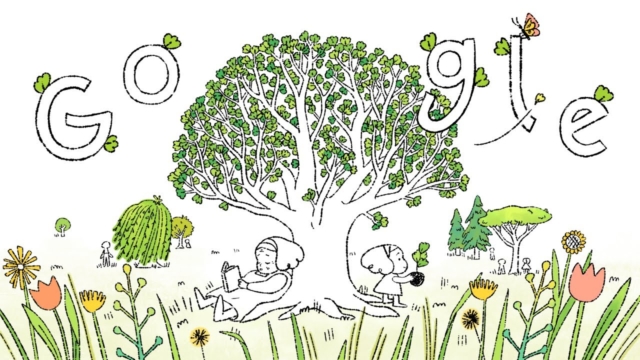 Did you Google something yesterday?
If so, you might have seen the Google Doodle (the banner at the top of Google's search page that changes for holidays, anniversaries, and other special occasions). Thursday's doodle was themed for Earth Day (April 22) and was created by CalArts Film/Video alum Sophie Diao (BFA 13).
The video shows a variety of trees being planted, which is just one of the ways we can help nurture the natural environment.
From a Q&A with Diao about her inspiration for the Earth Day doodle:
Q: What was it like to create this Doodle? Tell us more about your creative process.

A: I knew I wanted to create a narrative about the importance of trees, so I started by researching everything I could about reforestation techniques and best practices. I was inspired by the stories of people who had planted trees when they were very young and cared for them throughout their lives, and people—sometimes as a community, other times working individually—who made it a goal to reforest a place, whether it be one the densest cities in the world or an arid desert that used to be lush and green.

Once I had the seed of the idea of animating a little girl growing old with a tree, the rest of the Doodle story fell into place very naturally. One person can pass a sapling to someone else, and trees can sustain through many generations of human lives. Even if each person just plants one tree, if you share it with enough people, eventually you can create an entire forest.
Diao, an illustrator and art director for the Google Doodles team, has worked at the internet giant since 2013.