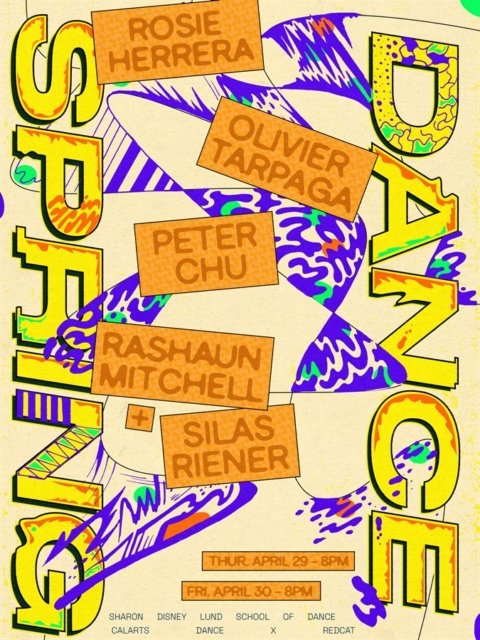 With an exploration of where dance is right now and where it's going, the CalArts Spring Dance Concert opens tonight (April 29), at 8 pm PST, as a live streamed performance. There will be a second performance on Friday, April 30. 
This season's concert follows the success of the livestreamed CalArts Winter Dance Concert by continuing to experiment with technology and commissioning new works from choreographers with distinct points of view. The concert features both live and pre-recorded performances by CalArts Dance students around the world: Germany, Peru, South Korea, Taiwan, and all across the US.
The program includes:
De par le temps (As time goes on)
choreographed by Olivier Tarpaga
De par le temps is a virtual dance theatre performance created by Tarpaga, assisted by Esther Baker-Tarpaga, in collaboration with the cast. The choreographic vocabulary will derive from improvisation and hybrid movement transformation, and storytelling. Through the music of Le Trio Joubran—an oud trio playing traditional Palestinan music—the dancers will explore their living spaces and surrounding nature.
As Yet Untitled
choreographed by Rosie Herrera
The themes of this work revolve around the idea of the divine feminine. Using the lens of glamour as a source for magic and a celebration of the feminine, this piece aims to be a radical rejection of the dreadful lethargy of the virtual world. The dancers/collaborators will be making altars in their spaces and use fabulous costumes and props of their own construction.
Sketching Anew
choreographed by Peter Chu
Visualizing how internal flow guides bodies through expressive and emotional constructs while empowering a state of wonder. A doodle best illustrates new hope, new possibilities, and ultimately recognizes new life. Will you allow for a new sketch to begin? This work will mix both live and pre-recorded content
As Yet Untitled
choreographed by Reshaun Mitchell + Silas Riener
Mitchell and Riener create portals through space-time and make a new language which only they will know. The Dance is the language, a tool, a weapon, a wheel, a shovel, a spindle, a spile, a pencil, a file, a dumpster, a dial, a hole in the ground where we plant seeds of hope and desire. Featuring music by Charmaine Lee.
Event Details
CalArts Spring Dance Concert
Thursday, April 29, 8 pm PST
Friday, April 30, 8 pm PST
REDCAT Livestream
Tickets