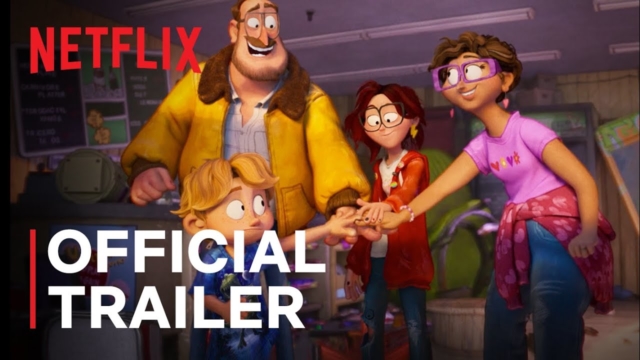 Familial bonds are strengthened in the face of world domination in The Mitchells vs. the Machines, a new feature by Sony Pictures Animation and currently streaming on Netflix. The animated sci-fi comedy is directed by Mike Rianda (Film/Video BFA 11) and co-directed by Jeff Rowe (Film/Video BFA 11); the duo also wrote the script. Fellow CalArtian Alex Hirsch (Film/Video BFA 07), who is credited among the voice cast, also served as a story consultant.
The story follows the quirky Mitchell family: daughter Katie Mitchell (Abbi Jacobson), an aspiring filmmaker; younger brother Aaron (Rianda); nature enthusiast father Rick (Danny McBride); and mother Linda (Maya Rudolph). When Katie is accepted into her dream film school, Rick proposes the ultimate road trip for one last family bonding experience. The trip is unexpectedly upended by a robot apocalypse, led by an android army helmed by a Siri-esque AI antagonist known as PAL, positioning the Mitchells as the world's last hope. Learning to overcome their differences, the Mitchells team up with a couple of friendly malfunctioning robots in order to save themselves and humanity.
The film has been celebrated for a distinct art style that combines the sleekness of CG animation with 2D-like traditional textures, and conspicuously studded with captions, doodles, clip art, and internet and social media imagery.
"Something that we liked the idea of was taking something really expensive and well-crafted, like an animated film, and then just messing it up," Rowe was quoted in a recent interview with Mashable. "Just doodling on top of it, screwing it up, breaking it, bad font choices, that interplay between something really high end and something really human and expressive."
The Mitchells vs. the Machines is available to stream on Netflix.