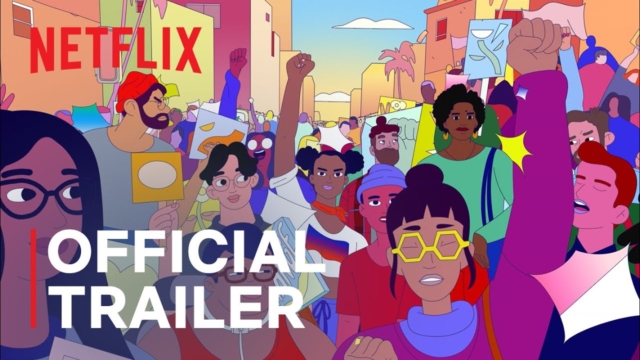 Netflix delivers a crash course in American civics with its upcoming short-form animated childrens' series We the People, created by Chris Nee (Doc McStuffins) and executive produced by Barack and Michelle Obama and Kenya Barris (Black-ish). The short form series features CalArtians Jorge R. Gutierrez (Film/Video MFA 00), Daron Nefcy (Film/Video BFA 09), Victoria Vincent (Film/Video BFA 19), Mabel Ye (Film/Video BFA 18), and School of Film/Video faculty Tim Rauch among the directors.
We the People is produced by the Obama's Netflix-based Higher Ground Productions, of which CalArtian Qadriyyah Shamsid-Deen (Film/Video MFA 10, Theater MFA 09) serves as a creative executive. Higher Ground Productions also produced the Netflix children's series Waffles + Mochi, which featured animated sequences courtesy of LA-based animation studio Six Point Harness, of which Musa Brooker (Film/Video MFA 08) serves as creative director.
Throughout 10 episodes, We the People delivers a lesson in civics to youth viewers, with each of the 10 episodes focusing on a particular aspect of US government and citizenship as animated by the aforementioned animator-directors. The series boasts an impressive roster of musical artists, including Brandi Carlile, Lin-Manuel Miranda, Andra Day, H.E.R., Adam Lambert, Janelle Monáe, and Cordae, as well as poetry by Amanda Gorman, all of whom will perform original compositions to soundtrack each episode's narrative.
Per a recent Entertainment Weekly article, Netflix describes We the People as "an exuberant call to action for everyone to rethink civics as a living, breathing thing and to reframe their understanding of what government and citizenship mean in a modern world."
We the People makes its world debut on Thursday, June 24 at AFI DOCS 2021, followed by a Netflix premiere fittingly set for Sunday, July 4.