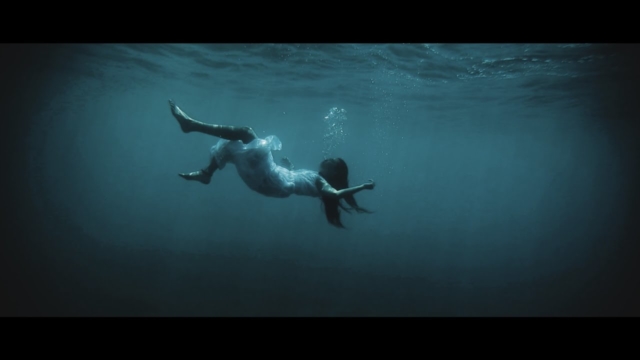 Honolulu-based music production collective EMC² raises ocean safety awareness in their latest music video Jellyfishes, produced, written, and sung by CalArtian Jaslyn Loftin (Music BFA 19), aka J.Lyn.
Established in 2020 during the coronavirus pandemic, EMC² includes J.Lyn and Honolulu-based music producers ETRNL, aka Evan Fujimoto, and MIIINASAN, aka Ryan Mina. ETRNL and J.Lyn reached to local ocean authorities, including the City & County of Honolulu – Lifeguard Services and Big Wave Risk Assessment Group, to portray a narrative about the dangers of carelessness out at sea in this latest Jellyfish music video.
"Initially, we reached out to these ocean safety organizations because we felt like this music video had a really important message to portray," J.Lyn explained in a recording about the making of the music video. "So when I reached out to them and heard more about what they do, I was so inspired. They dedicate their lives to saving others out at sea and promoting, advocating ocean safety awareness. Some of them do CPR training, hold summits and conventions about checking things like surf reports, knowing what to do when you're surfing, how to go about if you're in the water and you're drowning. Stuff like that can really save someone's life and we felt that we needed to put some of what they do in our storyline."
Per the official release about the music video, EMC² "aims to continue collaborating with artists in the future as they expand their audiences and impact around the world."
J.Lyn is a singer-songwriter who writes for various genres, including pop, R&B, and EDM. She wrote Make Me Forget, an electronic single by fellow CalArtian Annie Han Dai (Music BFA 24), aka Ann-E1, also released by EMC². The song peaked at #23 on Cloudmusic's Soaring Chart in Dai's home country of China, and at #26 on China's Global Song Chart in 2020.