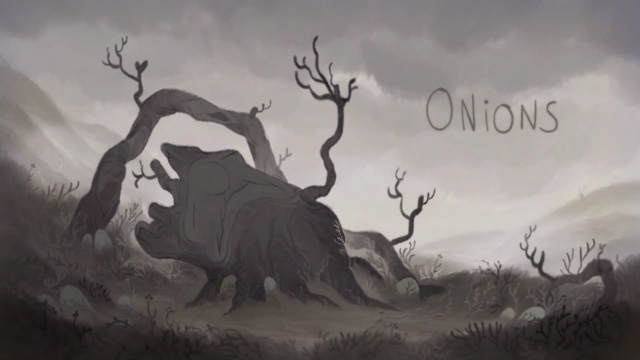 Earlier this month, BAFTA (the British Academy of Film and Television Arts) revealed the 15 finalists for the 2021 GSA BAFTA Student Awards. Among the honorees was CalArts student Anna Scott (Film/Video 22), selected for her film "Onions" in the Animation category.
In the film, two flightless onions named Henry and Harold go on a journey in the Snolly-Goster Woods. The music was created by LA-based composer Mica Erin, and the film's narration was performed by fellow CalArtian Takalay Hamill (Theater BFA 2020).
Scott, who's on leave from CalArts, is currently working as a character designer at Pixar. During a recent phone interview with 24700, she remembers getting word about the student BAFTA honor. More than 680 submissions from 126 schools in 34 counties were considered to select the finalists.
"I didn't think it was real," she said. "Making the film was a passion project, and I just went with it."
The experience in making "Onions" during the pandemic was a vastly different experience than making her first-year film. "I made a film I really hated. I did not enjoy it at all." So this time around, Scott decided to "do whatever I feel like doing. I had more fun." She made a film that appealed to her instead of creating a film that she thought other people would enjoy.
Her new perspective and joy are reflected in the work: The world of "Onions" is filled with adventure, whimsical flying and nonflying onions (e.g. protagonists Henry and Harold).
Before joining Pixar, Scott worked as a production designer at Netflix. She met the Netflix representatives at CalArts Character Animation's Portfolio Day, which brings students, alums, and animation companies and recruiters together. Unbeknownst to all those who gathered in the Main Gallery that day in February 2020, that Portfolio Day would mark one of the last large events held on campus before the COVID-19 pandemic forced everyone to quarantine at home.
Scott says that she misses CalArts and her cohort and classes tremendously. "I miss having classmates around to bounce ideas off," she said. "And Danny Hynes' second-year character design class—his lessons I think about all the time when I'm working."
She says that that class put character design in a broader context. "It was about connecting to the emotional and putting emotions in the work."
Scott took those lessons to heart, and will be honored as a finalist (and possible winner) for "Onions" when the GSA BAFTA Student Awards will be presented during a virtual ceremony set for Friday, July 23.