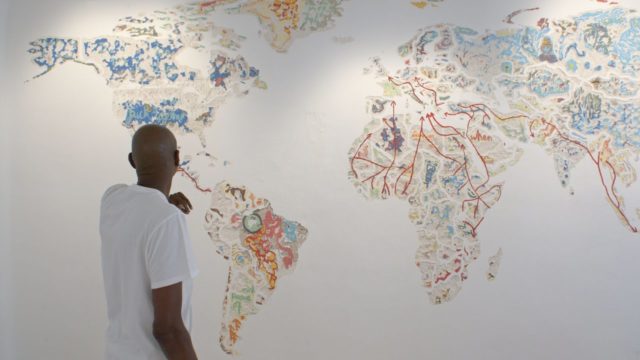 Mark Bradford's (Art BFA 95, MFA 97) exhibition Masses and Movements, the artist's first exhibition in Spain, inaugurates contemporary art gallery Hauser & Wirth's newest location on Isla del Rey (Illa del Rei) in the port of Mahon in Menorca. The exhibition is running now through Oct. 31.
Masses and Movements challenges unstable Eurocentric notions of cartography as Bradford conjures multimedia imagery of an ever-transforming world. More about the exhibition from Hauser & Wirth:
[C]ontinental drift, animal migrations, the trans-Atlantic slave trade, or the displacement of indigenous peoples. Below the layers of accumulated material, Bradford uncovers unstable narratives of European exploration rooted in myth. Neglected on the surface of this map are the stories of those adversely impacted by the legacy of these colonial histories.
"Maps have always been shady," Bradford was quoted in the official release. "So much of what we understand about landmasses comes from cartographers and their relationships to power, and the need to always keep a place for Europe at the centre of history. I'm interested in the potential for abstraction to pull the stories from the margins onto the pages of that history."
unnamed (2)

unnamed (1)

unnamed

The exhibition extends across seven gallery spaces, featuring an installation of seven suspended globe sculptures, three site-specific wall drawings of maps, and a collection of new canvas works inspired by the Waldseemüller World Map (1507), widely thought to be the first to ever feature the name "America" in print. Through his signature techniques of tearing, gouging, scraping, sanding, and bleaching, Bradford's expressive and colorful works depict "divergent experiences of a planet prearranged by inequitable access to power and privilege," and enduring legacies of colonialism.
Masses and Movements marks the artist's career-long exploration of oppressive systems. In this vein, another crucial element of the exhibition is Bradford's latest collaborative social engagement project, which aims to bring arts education to immigrant communities. The exhibition's integrated Education Lab was developed during Bradford's residency with students of Escola d'Art de Menorca, featuring a visual intervention made in response to the global refugee crisis and marking the artist's latest collaboration with education nonprofit PILAglobal.
"As businesses and schools closed and as countries shut their borders in 2020, everyone began to understand the power embedded in the lines on our maps," said Bradford. "We think maps are there to give us a sense of security with regard to place, but it's amazing how fast that changed."
Exhibition hours and transportation to Isla del Rey can be found on the gallery's visitor information page. The exhibition can also be experienced virtually through a 3D tour on the Hauser & Wirth website.
Event Details
Masses and Movements
July 19–Oct. 31
Hauser & Wirth Menorca
Plaça de la Constitució, 14, 07701 Maó, Illes Balears, Spain
Visitor information