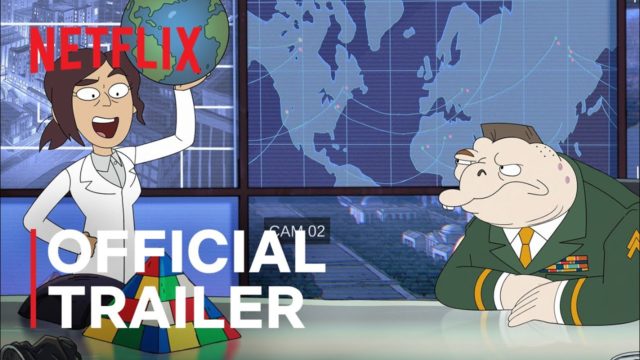 During Shion Takeuchi's undergrad days at CalArts, the young animator stumbled upon the late-night AM radio show Coast to Coast AM, and was introduced to the "shadow government" conspiracy theory. Takeuchi (Film/Video BFA 10) took this initial spark and years later transformed it into her first animated series, Inside Job, which premieres on Netflix on Friday, Oct. 22. 
Takeuchi's Inside Job is an absurdist workplace comedy about employees of Cognito Inc.–a.k.a. the Deep State–whose day-to-day centers around keeping their conspiracies secret. From chemtrails to clones, and lizard people to secret societies, Cognito Inc. is charged with managing it all.
At the heart of the show is the character Reagan Ridley (voiced by Lizzy Caplan), an antisocial genius and daughter of Cognito Inc. co-founder Rand (Christian Slater). The show follows Ridley on her ambitious journey to become a leader within the company and simultaneously use her position of power to make the world a better place.
Inside Job also features a supporting cast of characters, which includes Glenn Dolphman (John DiMaggio), a human/dolphin hybrid; Ridley's affable yet brainless sidekick Brett Hand (Clark Duke); Gigi Thompson (Tisha Campbell), the office gossip and Public Relations powerhouse; Dr. Andre Lee (Bobby Lee), a chemist and drug aficionado; and the mushroom creature Magic Myc (Brett Gelman).
The series is co-executive produced by Alex Hirsch (Film/Video BFA 07), fellow CalArtian and acclaimed creator of Gravity Falls.