Composer Ulrich Krieger, longtime faculty member of The Herb Alpert School of Music at CalArts, has released his latest album, 236 Strings, a collection of instrumental ambient pieces and electro-acoustic soundscapes crafted on a piano.
It's a change of pace for the musician, whose main instrument has been the saxophone or the clarinet, and who's also known for his use of microphonics to create static and feedback.
Adopting a similarly experimental approach to the piano, Krieger "ventured into unknown territory" by playing with the 236 strings of a prepared piano in every way imaginable.
To create the album's range of richly diverse sounds, he struck some piano strings with hammers like a dulcimer and plucked others like a harp, while also employing his hand, wood, glass and bow-like implements such as a fishing line. Krieger also added stationary and moveable objects to the strings to evoke unusual tones and vibrations.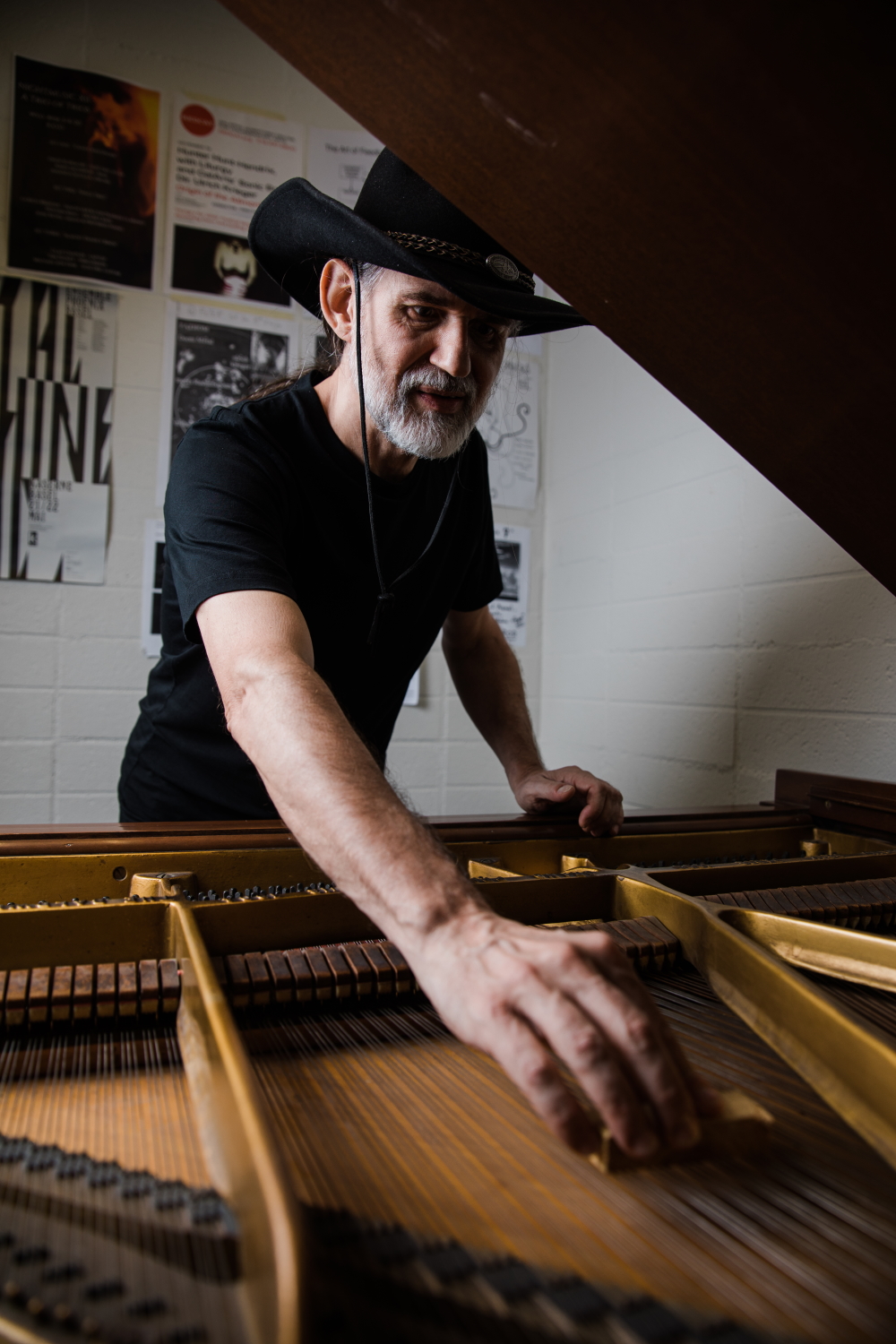 All the compositions originate from Krieger's series about Nordic mythology, the desert, and the pelagic region of the ocean, where most aquatic life can be found.
The first of five tracks, "Euphotic," conveys the richness of marine life in the top layer of the ocean. For this soundscape, Krieger used an EBow, an electronic device most often used by guitarists, while pianists and fellow music faculty Vicki Ray and Danny Holt (Music MFA 06) created their own sounds in the piano's interior.
The final track, "Nach dem Ende, vor dem Anfang" (After the End, Before the Beginning) is about the time between the ending of the old world and the beginning of the new one. "The open intervals mutate and, thanks to the breaking of symmetry, allow something new to emerge from the original static," Krieger says, "perhaps an allegory for our present times."
Fellow CalArts faculty member John Tejada, a noted DJ and electro musician, has remixed the album's first track "Euphotic," while German producer Pyrolator, aka Kurt Dahlke, put his own spin on "Oberfläche (OpenOcean, Marine Desert)."
Tejada's remix can be streamed or downloaded at https://www.lst-records.com/artists/ulrich-krieger.
—Sharon Knolle