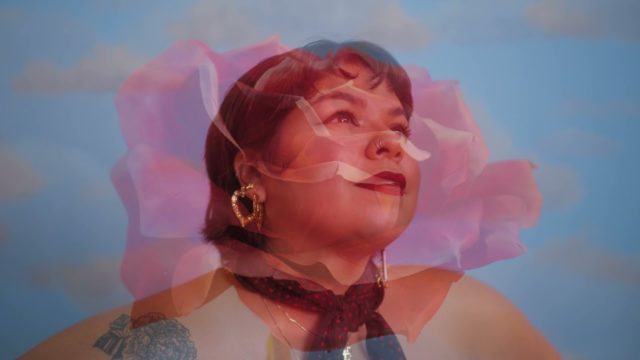 Ambar Navarro (Film/Video BFA 15) directs "LATINX INDIE – LA," a short documentary for British footwear and apparel brand Doc Martens' filmmaker series. In the fifth episode of the series' second season, Navarro shines a light on Los Angeles-based independent Latinx creators working as musicians, makeup artists, and magazine editors.
About the film from the official Doc Martens website:
In a predominantly white industry, Latinx Indie artists are building a movement. Film director Ambar Navarro explores the cultural cross-pollination rooted in Chicano spirit and style that's brought long-deserved spotlight to artists of the sub-genre. As leaders of the genre reflect on their experiences, it's only a matter of time until these incredibly talented artists enter the mainstream.
Among the artists featured in the eight-minute film is fellow CalArtian and singer-songwriter Nacho Cano (Film/Video BFA 16), alongside Doris Anahi, Alan Palomo, Danie, Inner Wave, Michael Martínez, Selena Ruiz, and Avalon Lurks.
"In terms of the Latinx community, it's this double-edged sword where you're equally proud to be a part of a playlist that's like 'Ultimate Indie Latinx,'" shared Cano, a solo artist who releases music under the name Harmless. "But wait, if I'm here, how come I can't also just be in 'All New Indie' or 'Ultimate Indie' or whatever? There's this weird alienation that happens amongst all of us where we're all really proud of where we're going and how we're doing within our own community, but I think we all kind of desire to be bigger than that."
Navarro, an LA-based artist, has directed music videos for The Paranoyds, Moaning, Stef Chura, and others. In spring 2021, she undertook an artist residency at Automata, the downtown Los Angeles-based experimental performance venue, during which she created a 16 mm short film MY DOLLHOUSE. The three-minute short, which features sound design by fellow CalArtian Daniel Eaton (Music MFA 11), offers a tongue-in-cheek take on haunted house horror films. The film is set in a large Victorian era dollhouse Navarro found in Automata's basement, and furnished with props and puppets from Kit Kraft, the now-closed historic craft and hobby store in Studio City, California.
Watch the virtual premiere screening of MY DOLLHOUSE, which includes an interview with Navarro, below.